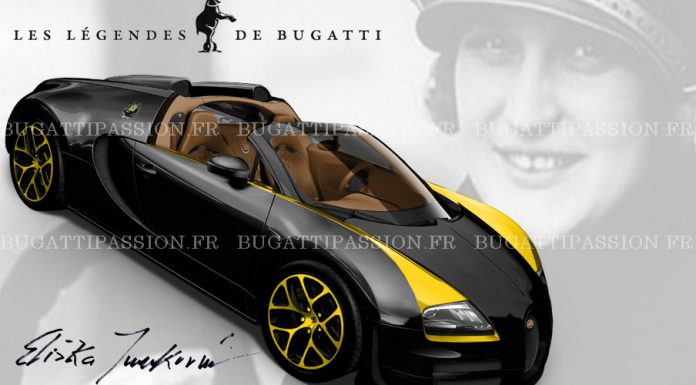 Ahead of its world debut at the Beijing Motor Show 2014 next month, the very first image apparently showing the Bugatti Veyron Grand Sport Vitesse Elisabeth Junek has leaked online.
Obviously, this image is simply a detailed rendering but if reports are to be believed, it could be of the real thing. On the outside, the Vitesse Elisabeth Junek presented here features predominately black paint work. However, at the front, it features two yellow panels stretching across the front end and tapering off at the ends of the doors.
This black and bright yellow paint scheme is carried on to the wheels which feature black inner spokes and a bright yellow face. The trademark 'EB' fuel cap is then finished with yellow writing. In the cabin, the Bugatti Veyron Grand Sport Vitesse Elisabeth Junek will receive a brown leather interior complete with Junek's signature stitched into the headrests.
As with the other Vitesses produced in the 'Legends' run, three copies of the Elisabeth Junek are likely to be produced.
Elisabeth Junek was the wife of Cenek Junek. A banker from Prague, Cenek was the archetypal Bugatti owner. He raced together with his wife in a number of events across Europe. Elisabeth Junek was said to be the faster of the two, astounding other drivers of the era with her incredible pace.
Her biggest claim to fame was her participation in the Targa Florio in 1928. She was leading all the men – Alberto Divo, Giuseppe Campari, Tazio Nuvolari – and victory seemed within her grasp when a defective brake caused her to lose her lead to Divo. She eventually finished fifth although she was welcomed back to her native Czechoslovakia as a hero.