Startech brought along their brand new Range Rover Sport to the Geneva Motor Show 2014. As a reminder, the Startech kit adds aerodynamic enhancements, wheels, suspension components, performance enhancements and a new exhaust system! We went in for a closer look and to snap these pictures!
The bodykit is manufactured in OEM quality with the RRIM PUR process. It includes a Startech front bumper, wide wheel arches, a rear facia complete with air ducts and a central diffuser. The clear-coated carbon fiber diffuser incorporates tailpipe trim with two openings on each side. The Startech stainless-steel sport exhaust system gets a butterfly valve and a distinctive design.
Owners of the turbo diesel Range Rover Sport can opt for the Startech PowerXtra SD30 S performance kit, which boosts power output of the 3.0 SDV6 turbo diesel model by 31 hp while bumping peak torque by 80 Nm. The SD30 S tuning kit consists of a processor-controlled plug-and-play auxiliary control unit and can be fitted in just 90 minutes.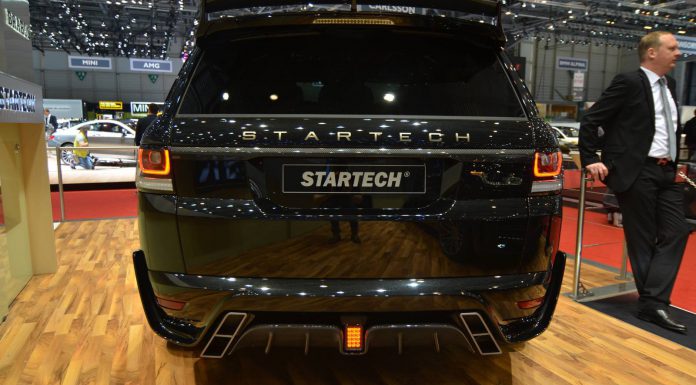 As you would expect, Startech offer a wide range of interior enhancements. The car first revealed at the Essen Motor Show 2013 featured a refined leather interior with Startech-designed instrument panel and revised door panels which feature fine black Nappa leather highlighted with red contrasting topstitching. The rich red color is also found on the leather edging of the floor mats, the wheels and the red-painted gills of the air vents in the front fenders.

If you want to read more about the Startech Range Rover Sport, check out our earlier article. Let us know what you think of the car in the comments box below. For full Geneva Motor Show 2014 coverage, check out our dedicated channel!