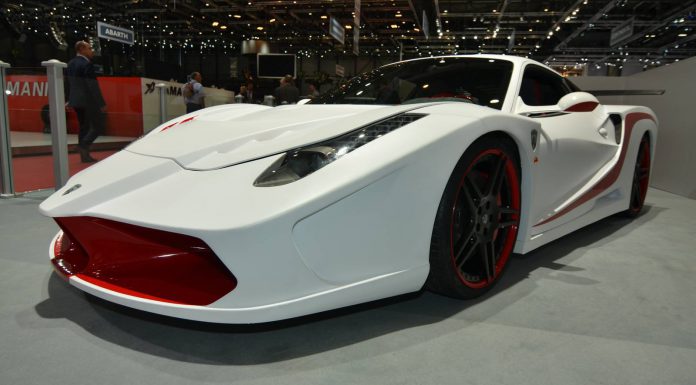 A new tuner on the block, Nimrod Performance, has certainly been turning heads at the ongoing Geneva Motor Show 2014 with its outlandish Ferrari 458 Italia Katyusha. The Katyusha follows on from the outlandish Avanti Rosso the Slovakian company revealed and it is arguably even more in-your-face. We went to have a look.
Believed to feature only visual changes rather than any performance modifications, the Katyusha is simply unlike any other supercar on the market. From the front, its design has clearly been inspired by Ferrari's range-topping LaFerrari with a prominent nose featuring. Additionally, the Katyusha includes a completely new hood as well as more angular front wheel arches similar to those from the Ferrari Enzo.
As you continue to move across the car, the visual changes just keep on coming in spades. Again, you'll notice a much more angular design than the standard Ferrari 458 Italia which is very curvy and sexy. Such changes are prominent with the new doors, side skirts and air intakes along with the squared rear wheel arches.
At the back, the Ferrari 458 Italia Katyusha by Nimrod Performance bears no resemblance to the standard 458 on which it is based. It features a racing inspired roof scoop and fin as well as a prominent fixed rear wing. Gone are the dual taillights of the standard car with them being replaced by quad taillights like Ferraris of old.

Let us know what you think of the car in the comments box below. For full Geneva Motor Show 2014 coverage, check out our dedicated channel!