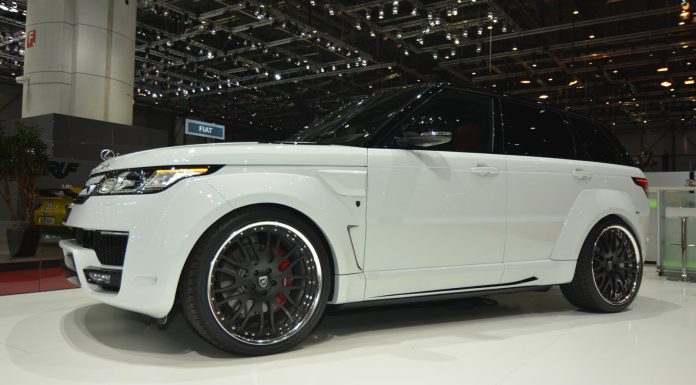 Hamann have a packed stand at the Geneva Motor Show 2014 this year with four world premieres. They have announced a new Hamann Range Rover Sport Widebody for he latest generation Range Rover Sport. The package offers enhancements in the aerodynamic and cosmetic departments with power upgrades to follow at a later date.
With the Hamann Range Rover Sport Widebody kit, the Range Rover Sport grows 12 cm wider. As well as a set of fender flares, Hamann fit a new front spoiler together with two additional daytime running lamps. The original fog lights are fully retained in form and function.
The fender flares are made up of six individual components. The Hamann Range Rover Sport also gets two air outtake panels on the front fenders and four body kit attachments on the four doors.
When it comes to the rear, Hamann customers have a choice of either black or silver anodised Hamann exhaust pipes, which are perfectly complemented by the rear trim panel, itself finished in high-quality composite material.

Hamann fit their version of the Range Rover Sport with Continental Cross Contacts in sizes 305/30 R23. The wheels are a one-piece forged wheel measuring 23 inches and featuring a forged anodised look. The design is multi-spoke and coloured in noble matte black finish.
Inside, Hamann fit the usual refinements. Black anodised aluminium pedals with the Hamann logo are one example. Further interior details are in preparation.