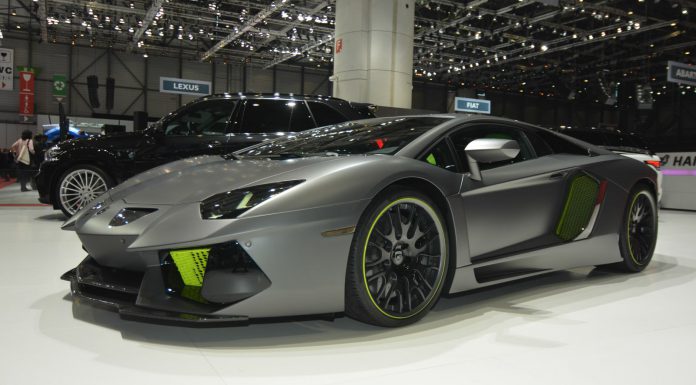 The Hamann Lamborghini Aventador Limited will debut at the Geneva Motor Show 2014. The Lamborghini Aventador has been extensively reengineered for the event, featuring a variety of new parts and a nice boost of power.
Hamann turned the martial Lamborghini Aventador into a bespoke supercar with their latest design. Hamann engineers have managed to increase the power by roughly 10%.
The front boasts custom-made carbon air vent inserts and a two-piece front spoiler. Eye-catching side skirts help calm the airflow on the underside. At the rear, Hamann replaced the rear apron and rear diffuser with their own designs and constructions made of ultra-lightweight carbon fibre. An adjustable rear spoiler was also fitted, as was a sports muffler designed exclusively for the Hamann Lamborghini Aventador Limited.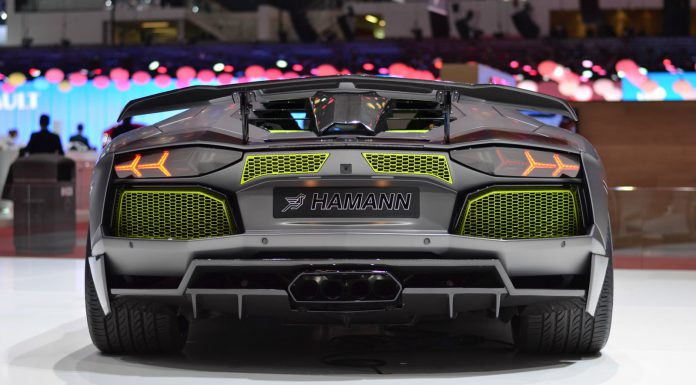 A set of new air intake slots on the engine compartment lid supply the 6.5 litre V12 engine with plenty of cool air. Another highlight of the package are the high-performance alloys measuring 9×20 inches at the front and 13×21 inches at the rear. Ultra-high-performance tyres measure 255/30 ZR 20 at the front and 355/25 ZR 21 at the back.
Under the bonnet, the 6.5 litre V12 is pushed even further than the standard 700 hp it comes delivered with. Hamann have developed a proprietary ECU software and now the Hamann Lamborghini Aventador Limited now produces 760 hp and 735 Nm although Hamann tells us they haven't yet got TUV approval.

The paint colour is a special matt grey paint named "Stealth Grey" and the contrasts are "poison" green in contrast to the body. Inside, a three-spoke multifunctional steering wheel is trimmed in green leather on the top and bottom. The instrument panel receives new stitching along with the side panels and the centre console.