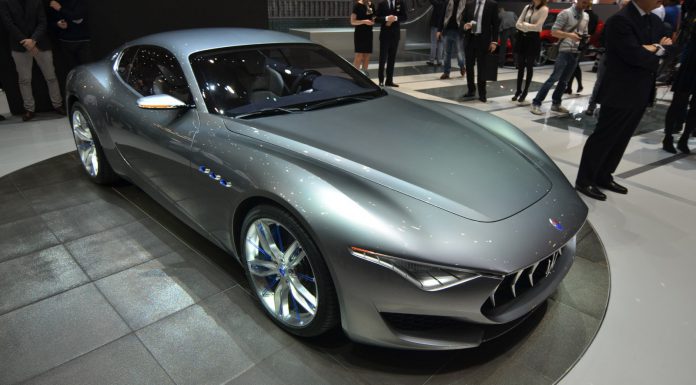 The brand new Maserati Alfieri Concept has just been released at the ongoing Geneva Motor Show 2014. Created to celebrate the Italian marque's 100th anniversary, the Alfieri points towards an exciting future for Maserati. We were on hand to snap live pictures of it.
Starting from the name front, it is named after Alfieri Maserati, one of the Maserati brothers who founded Officine Alfieri Maserati. It was designed at the Maserati Centro Stile in Turin and is unquestionably the sleekest Maserati we have seen in quite a few years. With a sexy 2+2 design, the Maserati Alfieri Concept follows on from cars such as the 1957 3500 GT, 1959 5000 GT and the 1969 Indy.
Based on the Maserati GranTurismo MC Stradale, the Alfieri features a 24 cm shorter wheelbase and measures 4,590 mm long with a 2,700 mm wheelbase, 1,930 mm wide and 1,280 mm high. Under this sleek body is a 4.7-liter naturally aspirated V8 engine developing 460 hp at 7,000 rpm and 520 Nm of torque at 4,750 rpm.
Mated to this powertrain is a six-speed, electro-actuated gearbox complete with a limited slip rear differential. Braking power is provided by the same carbon ceramic disc brakes as the GranTurismo MC Stradale complete with blue Brembo brake calipers.

Let us know what you think of the car in the comments box below. For full Geneva Motor Show 2014 coverage, check out our dedicated channel!