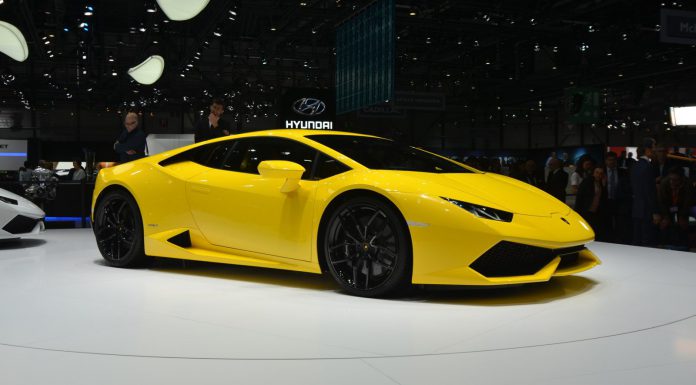 The Lamborghini Huracan LP 610-4 is the headline display at the Geneva Motor Show 2014 for the Italian brand. The Lamborghini Huracan LP 610-4 was officially unveiled late last year and has been slowly crossing the world for viewings with potential customers ever since. We took a closer look at the new entry-level Lamborghini; if ever such a thing could exist!
The Lamborghini Huracan LP 610-4 replaces the Lamborghini Gallardo LP 560-4 if you had not already guessed! The Lamborghini Huracan gets a new 5.2 liter V10 engine uprated and heavily revised from the engine that power the Gallardo. It produces a total of 610 hp at 8,250 rpm and 560 Nm of torque from 6,500 rpm. These figures allow for a sprint from standstill to 100 km/h in just 3.2 seconds, from 0-200 km/h in just 9.9 seconds and a top speed in excess of 325 km/h.
Just like the Gallardo, the Lamborghini Huracán LP 610-4 features all wheel drive via a brand new 7-speed dual-clutch transmission. Three driving modes, Strada, Sport and Corsa, adjust the various driving dynamics of the vehicle. Underneath is a carbon fiber and aluminium built chassis.
The design of the Lamborghini Huracan LP 610-4 features elements of Lamborghini's exhilerating Aventador. The door window features a characteristic dip, much like the original Diablo. The lights closely reflect the Aventador's own lights. The interior is also thoroughly modern! The front of the Lamborghini Huracán LP 610-4 sits at a low angle with similar exhaust tips as the Gallardo at the rear.
If you want to read more about the Lamborghini Huracan LP 610-4, check out our earlier article. Let us know what you think of the car in the comments box below. For full Geneva Motor Show 2014 coverage, check out our dedicated channel!