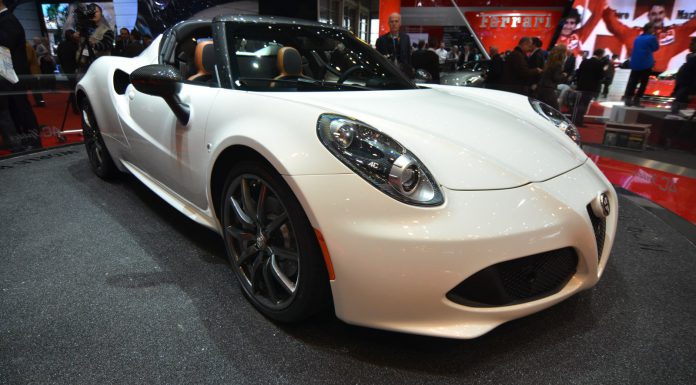 Alfa Romeo have the Alfa Romeo 4C Spider Concept on display at the Geneva Motor Show 2014. The 4C Spider Concept previews a potential production model of the critically aclaimed Alfa Romeo 4C. As you would expect from a car with a carbon fibre chassis, the roof has been pretty easy to remove. We took a closer look!
So, the Alfa Romeo 4C Spider Concept loses its roof and gains a fabric cover. The Alfa Romeo 4C Spider Concept is said to weigh just 60 kg more than the featherweight coupe's 895 kg kerb weight. It does this thanks to the fabric roof and a new carbon roll bar cover.
Underneath, the Alfa Romeo features the same 236hp 1.75-litre four-cylinder engine with a six-speed dual-clutch gearbox. The combination of the low weight with a power dense engine means the 4C Spider Concept is capable of a 0-100 km/h sprint in 4.5 seconds and a top speed of more than 155mph.
Aside from the new roof, Alfa Romeo appear to have listened to the critics. This concept version of the 4C ditches the cluster lights of the Coupe in favour of a new a clamshell headlight design. Alfa Romeo have fitted different wheels to the Concept too and a new paint colour. Finally, there is a new Akrapovic exhaust system, built from titanium and carbon.

For more Geneva Motor Show 2014, take a look at our dedicated news feed.