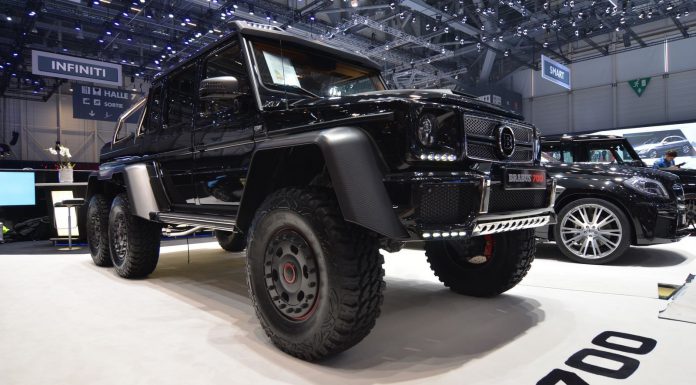 This Brabus B63S 700 6×6 is one of the biggest cars here at the Geneva Motor Show 2014. 700 hp through 6 wheels, sounds like a suitable project for Brabus! The Brabus B63S 700 made its debut at the IAA Frankfurt Motor Show 2013 and we have to say, that it is the most badass car on display this year too. Based on the very Mercedes-Benz G63 AMG 6×6, Brabus have added a thorough set of modifications.
The Brabus B63S 700 is powered by a 5.5-liter V8 Biturbo with Brabus' 700 engine tuning. It produced 544 hp before brabus performed the modifications, now it has 700 hp and 960 Nm of torque, routed to all six-wheels. The four ton goliath sprints from rest to 100 km/h in just 7.4 seconds. The top speed is limited electronically to 160 km/h (100 mph) due to the 37-inch off-road tires!

For details on the Brabus B63S 700 6×6, read our official post here. Follow us on Facebook, Twitter and Instagram for exclusive live photos and behind the scenes updates.