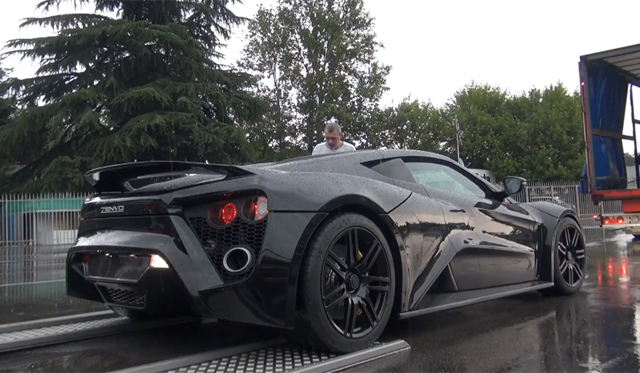 As many will have seen, the Zenvo ST1 received a tough time at the hands of Jeremy Clarkson recently during the third episode of Top Gear season 21. The car faced several problems, which is only natural for a fledgling supercar manufacturer just finding its feet. Zenvo have decided to clarify a few of the conclusions and elaborate upon the testing process.
The car used for last Sunday's segment, as you will know, broke down three times before it was eventually able to set a competitive lap time. Zenvo explained that during the first visit, in order to get the shots Top Gear needed, the car was subjected to an hour of extreme drifting by a variety of Top Gear drivers. Innevitably, something had to give on this pre-production demonstrator and it was the clutch, causing the car to need work carried out at the Zenvo factory.
By the time the car visited the track for a second time, the Top Gear team needed to get some high speed shots. This resulted in another intensive hour of top speed runs. 50 litres of fuel later and another part on the pre-production Zenvo ST1 gave way. This time, the cause of the problem was a defective intercooler fan, manufactured by one of Zenvo's partners. The car had to be shipped back to the factory in order to fix the cosmetic damage. The upside being that Zenvo managed to learn from the testing and have now fixed the fault.
Those that live in England will know just how wet it has been over the past two weeks. By the time the car came to set its full lap time, Zenvo had the car fully sorted and was running at full strength. It managed to record a time of 01:29.9 seconds which was over 15 seconds slower than the Pagani Huayra's record time. The weather obviously didn't help traction with the 345/30 ZR20 rear tyres. It was extremely wet and a severe weather warning was in place.
Zenvo also announced the results of two other unofficial tests conducted by Top Gear during their time with the car. Zenvo state that the ST1 managed to reach one of the highest top speeds ever recorded on the Top Gear test track at 304 km/h (189 mph). We are told that Top Gear also managed to clock 0-100 km/h (0-62 mph) acceleration times of just 2.69 seconds on damp tarmac. Although these were omitted from the final show.
Zenvo is looking forward to attempting a more realistic lap time in the future in dry weather conditions. Zenvo has also asked us to clarify the fact that the Zenvo ST1 actually carries a £660.000 price tag, not the £800.000 as was stated in the show.