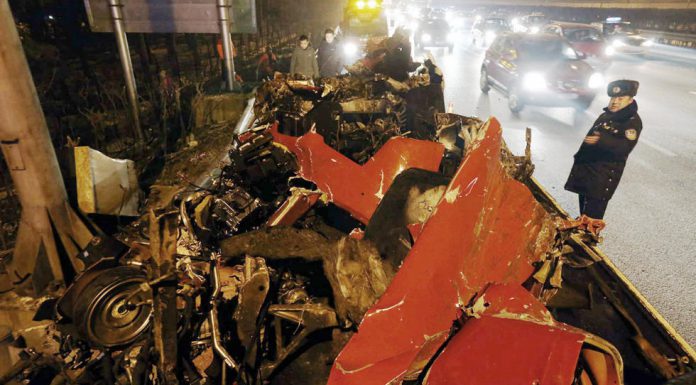 News has reached us of a savage Ferrari 458 Italia crash that happened last Thursday in Beijing, China. News sources are reporting that the remains of the car in the pictures above and below are that of a Ferrari 458 Italia. It is alleged that at the time of the accident, the car was being driven with two males in the passenger seat.
News reports suggest that all three were ejected from the car as it hit a guard rail on the Beigao Bridge at around 3:30 a.m. Authorities have already ruled out drunken driving as a cause of the accident. All three men registered a blood alcohol content of zero. Reports suggest that the Ferrari was being driven very fast when the accident happened. Some say as high as 300 km/h in a 120 km/h zone.
Eye witnesses say that a 20-metre section of guardrail was bent and pieces of the vehicle were scattered over the highway. We are told that all three men were alive following the accident. On his way to the hospital, the 23-year-old driver succumbed to his injuries and was pronounced dead. Of the other two passengers, one suffered head injuries and remains unconscious in hospital in a northern suburb of Beijing, the other was treated for bruised lungs at a hospital near the city centre.
None of three men involved actually owned the car. It is reported that they had just finished delivering another undisclosed car to another owner when the accident happened. After delivering the other car, all three men squeezed themselves into the Ferrari 458 Italia for the journey back home. It has been said that all three of the men involved came from normal Chinese families.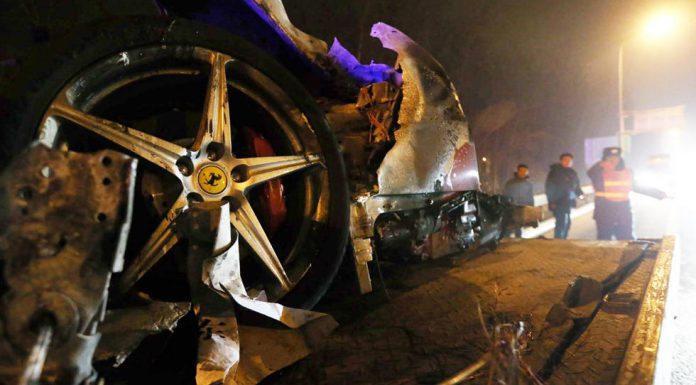 The accident appears similar in circumstances to the accident involving Ling Gu, the 23-year-old son of Ling Jihua, a top aide to former president Hu Jintao. That particular accident caused a great deal of political friction and was extensively censored.