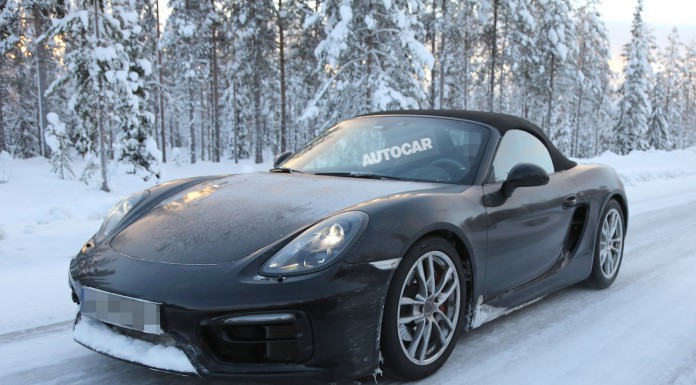 Recently, the upgraded Porsche Boxster GTS and Porsche Cayman GTS were spotted testing under black camouflage. Now new images have emerged of the two cars testing in the snow along with reports that both cars will debut at the upcoming Beijing Motor Show 2014 before going on sale in April.
First and foremost, these new GTS variants feature more aggressive front bumpers with new LED daytime running lights. At the rear, a more prominent diffuser is visible. Other than these changes, nothing else can be said about the styling changes set to debut on the latest-generation Boxster and Cayman GTS models. However, it is inevitable that both will feature more changes than just these two.
While the visual changes will be the first to catch the eye, when depressing the accelerator on both, the additional power will become noticeable. Specifically, both the new Cayman GTS and Boxster GTS are set to receive 15 hp power increases over their respective S variants. As a result of this, the Boxster GTS will deliver a total of 326 hp while the Cayman GTS will deliver 335 hp.
Thankfully, a six-speed manual transmission will be standard on both cars. Additionally, a PDK 'box will be available. Both the new Cayman GTS and Boxster GTS are then set to ride on new 20-inch wheels borrowed from the Porsche 911 at all four corners.
[Via Autocar]