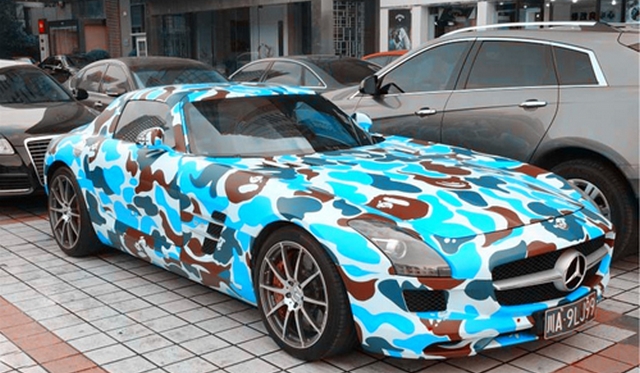 A Bathing Ape, or BAPE, is a juggernaut in the Japanese clothing market with a particular focus on lifestyle and streetwear for those of all ages and genders. Last year, we brought you pictures of a McLaren 12C and Ferrari 458 Italia wrapped in green camo courtesy of BAPE while also showing you an insane blue camo wrapped Lamborghini Aventador complete with a ski-box!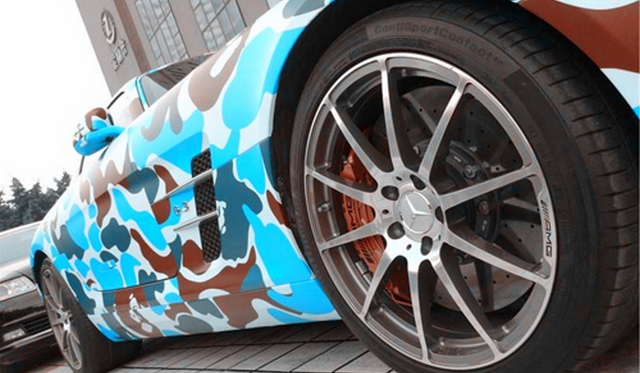 Now the latest supercar spotted with a custom wrap courtesy of BAPE is the following Mercedes-Benz SLS AMG. This very special wrap combines bright blue, dark blue, brown and white to create an extremely unique wrap unlike any other in the world. Just like previous cars wrapped in these unique BAPE camouflaged designs, this Mercedes-Benz SLS AMG also features the clothing company's logo throughout.
Under the hood, the Mercedes-Benz SLS AMG features a potent 6.2-liter V8 engine delivering 563 hp at 6,800 rpm and 650 Nm of torque at 4,750 rpm. Mated to this engine is an advanced 7-speed dual-clutch automatic transmission sending all of the aforementioned power to the rear wheels. While the SLS AMG does tip the scales at a hefty 1620 kg, the car is capable of hitting 100 km/h from a standstill in under 4 seconds and a top speed just shy of the fabled 200 mph mark!