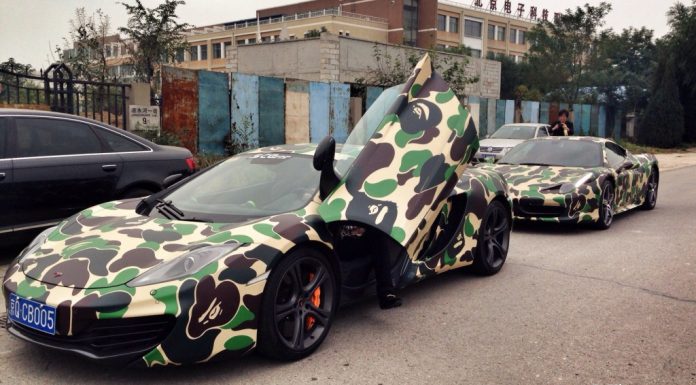 A Bathing Ape, or BAPE, is a juggernaut in the Japanese clothing market with a particular focus on lifestyle and streetwear for those of all ages and genders. However, the company has also ventured into the automotive market a few times in the past and these two supercars are their latest creations.
As the images show, BAPE recently gathered a Ferrari 458 Italia as well as a sweet McLaren 12C and swiftly set about wrapping them in camouflage. This is no surprise for A Bathing Ape which has become accustomed to camouflage supercar creations in the past previously wrapping a Rolls-Royce Phantom as well as the iconic 1954 Mercedes-Benz 300SL.
Despite their dramatic appearances, this Ferrari 458 Italia and McLaren 12C are both stock. That means that the Ferrari 458 Italia features a 4.5-liter V8 engine producing a total of 562 hp. While the recently revealed 458 Speciale is just that little bit quicker thanks to its higher power output and reduced weight, the standard Ferrari 458 Italia can still hit 100 km/h in just 3.4 seconds.
By comparison, the McLaren 12C is fitted with a smaller capacity 3.8-liter twin-turbocharged V8 engine delivering 616 hp in 2013-specifications. As a result, the 12C can hit 100 km/h in just 3.1 seconds. Tests however, have shown quicker acceleration times in the past.
Both cars were on display at a recent event in China.