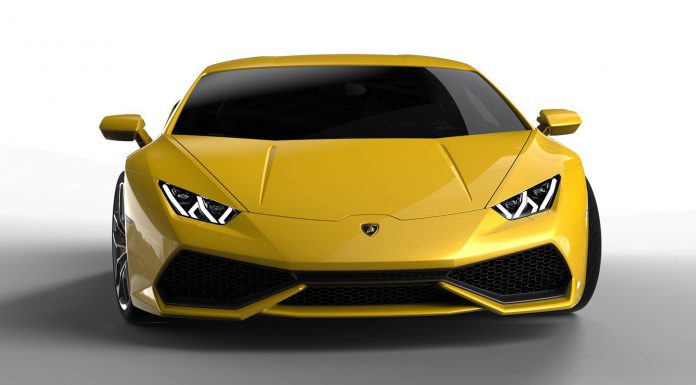 While the Lamborghini Huracan is still quite a few months away from hitting the market, official U.K. pricing details for the new supercar have leaked online.
A base Lamborghini Huracan will set you back at least 150,600 pounds however, that doesn't include the 30,120 pound VAT charge bringing the total minimum amount to 180,720 pounds! Another three thousand is then be added on for the delivery charge.
In terms of colours, eight different standard ones are available ranging from white to blue and black. If you're looking for something a little more exclusive, then the optional paint schemes could interest you. The matte colours including Nero Nemesis and Giallo Horus will add an extra 10,500 pounds to the sticker price, while bright Verde Mantis paint will cost 3,360 pounds.
Other optional extras include a lifting system costing 2,628 pounds, Magneto-rheological suspension costing 2,520 pounds, while a host of interior and infotainment options will see the base price rise to well over 200,000 pounds!
Under the hood, the Lamborghini Huracán receives a new 5.2-liter V10 engine uprated and heavily updated from the engine of Gallardo's. It produces a total of 610 PS, or 602 hp at 8,250 rpm and 560 Nm of torque at a high 6,500 rpm. Consequently, the brand new Huracán can sprint from a standstill to 100 km/h in just 3.2 seconds, from 0-200 km/h in just 9.9 seconds and a top speed in excess of 325 km/h.
This power is then sent to all four wheels via a brand new 7-speed dual-clutch transmission. Just like the Lamborghini Aventador, the new Huracán features three different driving modes. These are Strada, Sport and Corsa. Each of the different modes adjust the behaviour of the new transmission as well as the engine behaviour, sound, electronic stability control and the all-wheel drive system. Helping to bring the Lamborghini Huracán to a stop are carbon ceramic brakes as standard. Unfortunately, Lamborghini has yet to reveal further specifications about the upgraded braking system.
[Via The Supercar Kids]