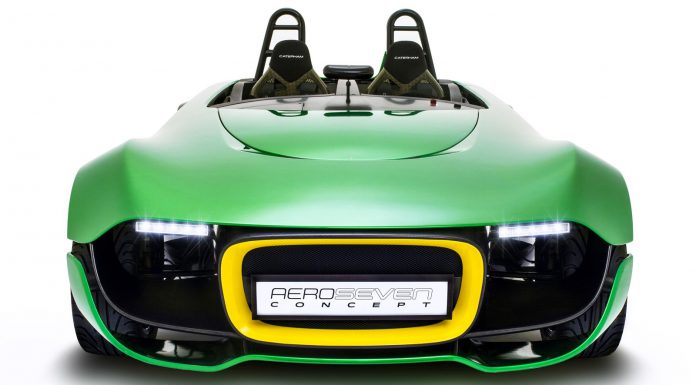 Originally scheduled to hit the production line later this year, the potent Caterham AeroSeven won't go on sale until next year. The reason? Well, it turns out the Malaysians aren't too fond of the design and we can't blame them.
While speaking with Autocar, Caterham Group CEO Graham Macdonald said that the redesign will primarily focus on the front-end while also adding a roof and proper doors.
"A lot of the customer feedback we've had so far said that the front was too flat," he said "That it was too much like a slab. We're looking at redesigning the front end slightly, and we'll be looking at a windscreen and putting a roof on as well."
Because Caterham is currently putting lots of focus into selling the AeroSeven in Malaysia, shareholders for the British firm want to see an enclosed coupe fitted with air conditioning if it has any hope of selling well in the humid Asian nation.
While further discussing the visual changes, Macdonald said, "The design will still look similar to this, we want to keep the same style. We'll look at the front but we've got some quite smart drawings and plans for a roof as well."
Under the hood, the current Caterham AeroSeven Concept features a Ford Duratec-based 2.0-liter naturally-aspirated four-cylinder engine pumping out an impressive 237 hp at 8,500rpm and 152 lb-ft of torque at 6,300 rpm. Mated to this small engine is a six-speed manual transmission sending power to the rear wheels. As a result, the car can hit 100 km/h in less than 4 seconds thanks to Caterham's first configurable traction control and launch control systems. In addition to these systems helping the launch, the Caterham AeroSeven weighs just 635 kg thus giving the car a power-to-weight ratio of 397 hp per tonne.
[Via Autocar]