As we know, Lexus is currently preparing to reveal the 2015 Lexus RC F coupe at the upcoming Detroit Motor Show. Over recent months, speculation about the car has been everywhere with most reports claiming that it would feature a 5.0-liter V8 engine producing 455 hp at 6,800 rpm and 401 lb-ft of torque at 5,200 rpm.
Now an official invitation for the Lexus booth at the Detroit Motor Show 2014 has been leaked online and it states that the RC F will actually produce 460 hp courtesy of its potent V8 engine. As a result of this, it is believed that the Lexus RC F should sprint to 100 km/h in just 4.5 seconds and continue onto a top speed of around 300 km/h!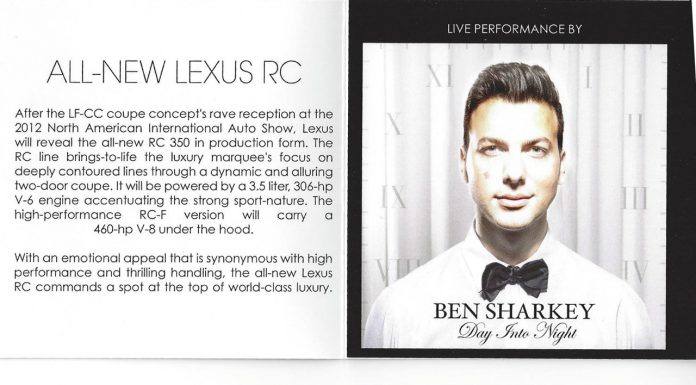 Additionally, the styling of the 2014 Lexus RC F is set to be inspired by the Lexus LFA and the car is predicted to cost north of $100,000 in the U.S.
To keep the car as lightweight as possible, the 2014 Lexus RC F coupe will featuring a carbon fiber hood, roof and trunklid with a small hood scoop expected to be utilised to help increase downforce. Additionally, the 2014 Lexus RC F will receive a speed-sensitive rear spoiler like the Lexus LFA as well as other aerodynamic tricks utilised in the LFA to help it achieve a top speed in excess of 186mph!