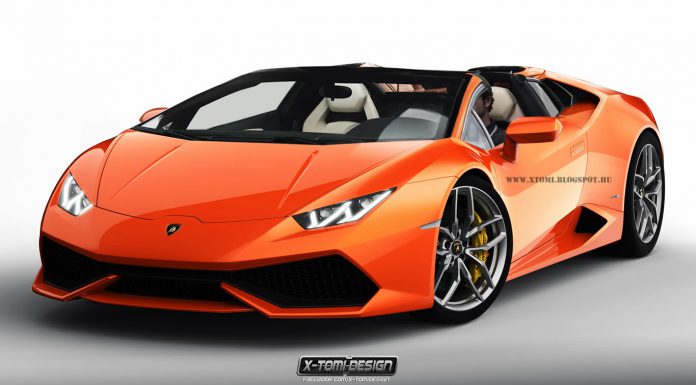 With the long-awaited online debut of the Lamborghini Huracan out of the way, we can now begin to speculate as to how future variants will look. We have already brought you renderings of a Superleggera and Squadra Corse and now it is time to look at what's expected to be the next version in the form of the Huracan Spyder.
Keep in mind that no Superleggera or Squadra Corse versions of the Huracan have been confirmed yet and there's every possibility similar track-oriented variants will feature different names. However, the automotive world will definitely receive a convertible variant of Lamborghini's entry-level mid-engined supercar. In fact, if previous reports are to be believed, we could see the Lamborghini Huracan debuting in just 12 months time!
For those of you still trying to process one of Lamborghini's most important vehicles ever, remind yourself of these facts. It receives a new 5.2-liter V10 engine uprated and heavily updated from the engine of Gallardo's. It produces a total of 610 PS, or 602 hp at 8,250 rpm and 560 Nm of torque at a high 6,500 rpm. Consequently, the brand new Huracán can sprint from a standstill to 100 km/h in just 3.2 seconds, from 0-200 km/h in just 9.9 seconds and a top speed in excess of 325 km/h.
[Via X Tomi Designs]