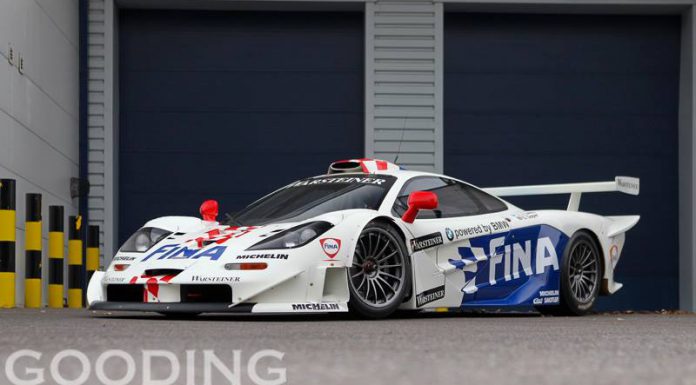 Gooding & Co will auction a rare 1997 McLaren F1 GTR on 17 and 18 January 2014 at their Scottsdale Auction. The listing was only recently placed on Gooding & Co's website so we'll have to wait for an official set of photos and full details, however, it seems that the German owner of this FINA liveried car will be offering it for sale!
This McLaren F1 is the first to hit the market since Pebble Beach earlier this year when a road-going example managed to fetch $8.47 million. It will also be the first McLaren F1 offered publicly since customers started taking delivery of the McLaren P1.
The McLaren F1 GTR on offer here is essentially a third generation car. It is one of 10 built for the 1997 season following success at the 24 Hours of Le Mans 1995. At this point in time, the top tier of motorsport was progressing at quite a rate so McLaren sought to upgrade and try something new for the 1997 season.
For the 1997 McLaren F1 GTR Longtail, weight was further reduced and a sequential gearbox was added. The engine fitted to the car is the slightly destroyed 6.0 litre version of the BMW V12 instead of the previous 6.1 litre. The car also got a distinctive modified bodywork, providing it with its Longtail status. The increased length served to increase rear downforce.
1997 McLaren F1 GTR Longtail chassis number 021R raced as part of the Works BMW Motorsport Schnitzer Team, driven by JJ Lehto and Steve Soper, and had four podium finishes out of five FIA GT Championship races, winning at Hockenheimring and Helsinki.
It will be extremely interesting to see what price it gets!