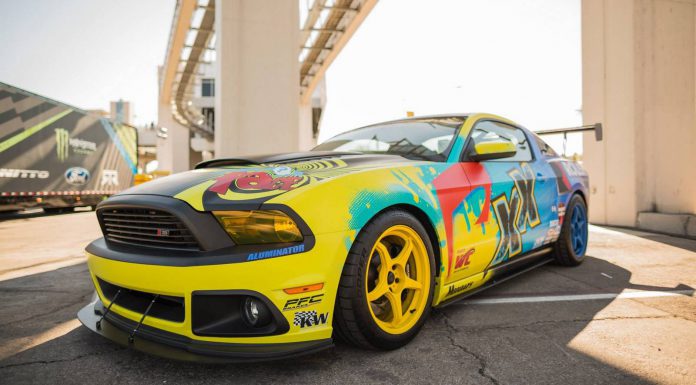 Now Showing at SEMA 2013 is the 2014 Roush Performance Mustang RS3 for Road Racing World Challenge. They will be joining the Pirelli World Challenge series' GTS class for the 2014 season, after a successful career in the Grand-AM Continental Tire Series. Grand-AM has now merged with ALMS to form the TUDOR United SportsCar Championship.
The car is showing at the "Ford Out Front" booth at SEMA and it features a new livery which happens to be Jack Roush Jr.'s personal track car. Roush Jr. has been competing since 2006. The car comes with a Roush Stage 3 Mustang package which customary features Eaton's Twin Vortices Series (TVS) technology, a R2300 supercharger combined with Roush's High-Efficiency Intercooler and an OE-level PCM Calibration.
The result is an output of 575hp and 505 lb.-ft. torque, with the Ford Racing "Aluminator" Engine you get 625 HP with a Phase 2 tune and 675 HP with a Phase 3 upgrade. To ensure proper drivability, the package also comes with a Roush Performance Suspension System featuring custom-valved front and rear shock absorbers, rate-matched front and rear coil springs, a larger, stiffer front stabilizer bar and a rear anti-wheel hop upper control arm.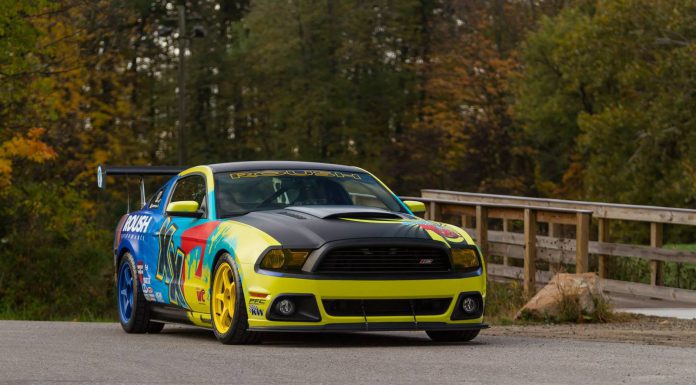 Speaking on the car, Roush Jr. said;
We've had some great success racing in Grand-Am, with 10 victories, and 24 podiums. Racing in Grand-Am over the past several years is an opportunity that I will always be grateful for. I have great respect both for the series and the competitors there. As for the Pirelli World Challenge, we are very excited about the new adventure ahead. The series has its own great history, format, and competitors to tend with.
Scott Bove, president and CEO, Pirelli World Challenge said;
We are proud of the developments we have made to the series to be able to attract more and more top teams and drivers to the Pirelli World Challenge championship ceries. We are excited to have the Roush Performance team running in GTS in 2014. Our GTS class was extremely competitive in 2013 with three drivers eligible to win the championships going into the last event. With Jack Jr. and his team coming in for next year it's going to raise the bar even higher.