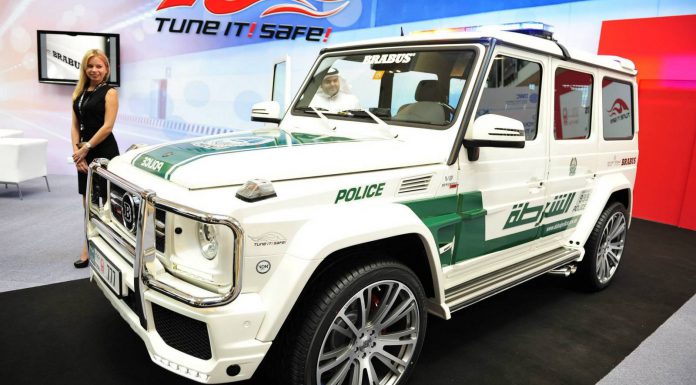 The Brabus B63S 700 Widestar Dubai Police Edition is now showing at the Dubai Motor Show 2013. It is one of the latest vehicles to join the Dubai Police force. Brabus are also using this event to campaign for safe vehicle tuning under the name "Tune It Safe" having in mind that tuning has evolved and anyone can do it but more often the safety considerations are ignored.
The Tune It! Safe! campaign is backed by the German Ministry for Transport, Construction and Urban Development and sponsored by the Association of Automobile Tuners and has numerous partners from industry. It has advocated responsible tuning in Germany since 2005 and is now looking to extend its program worldwide.
The Brabus B63S 700 Widestar gets the standard B63S 700 upgrades applied to its 5.5 litre V8 engine. Power is up to 700 hp at 5,300 rpm and an electronically limited 960 Nm of torque from as low as 2,000 rpm. The Dubai Police Edition retains the AMG Speedshift Plus 7G-Tronic which makes 100 km/h possible in just 4.9 seconds. Top speed is limited to 300 km/h in order to protect the tyres.