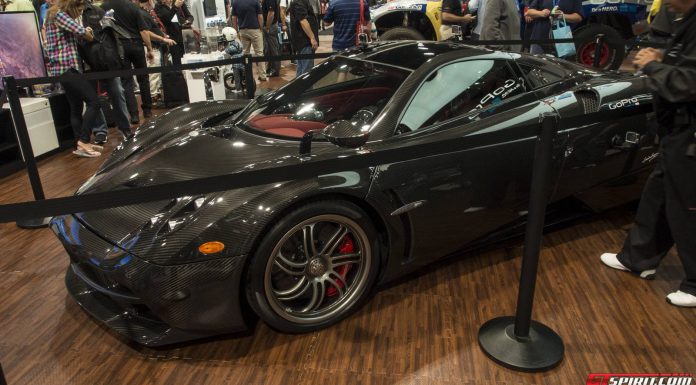 SEMA 2013 is in full swing and it has thrown up some epic car and bokers creations, (catch up with the first two days action here!). One brand, however, never fails to draw huge crowds, Pagani. This naked carbon fiber Pagani Huayra Carbon Edition can be seen at the GoPro stand and it is beautiful!
As a reminder here are some figures. The Pagani Huayra Carbon Edition is powered by a 6.0 liter Mercedes-AMG twin-turbo V12 engine which puts out a whopping 700 horsepower and 1,000Nm of torque. Thanks to this, the Huayra is able to blast itself from standstill to 100km/h in 3.3 seconds, while its top speed is an impressive 370km/h.
The car is perfectly balanced with its dark red leather interior, as ever with Pagani's the attention to detail is outrageous. Every single bolt has been adorned with the Pagani logo and the cabin of the car is just spectacular, the ergonomics and weight of every handle and knob is so natural and balanced. This is Horacio's finest creation to date!