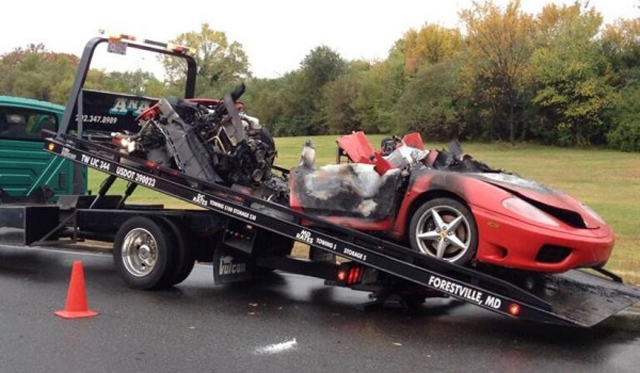 Just a few days after this Ferrari 458 Italia crashed on George Washington Parkway in Washington DC, another Ferrari has crashed on the same road albeit this time, the results were much worse.
The crash at around 9:30am on Friday when the Ferrari 360 Modena crashed under I-66. The crash was caused by the driver losing control of the Italian supercar on the slippery roads.
[youtube]http://www.youtube.com/watch?v=TXinQGiUet8[/youtube]
Unfortunately, the carnage didn't end there as the Ferrari 360 Modena swiftly caught fire with all of the car expect the very nose being engulfed in flames. The fire authorities were able to extinguish the fire but not before the Ferrari could be saved.
Fortunately, the driver was uninjured.
[Via ARLNow]