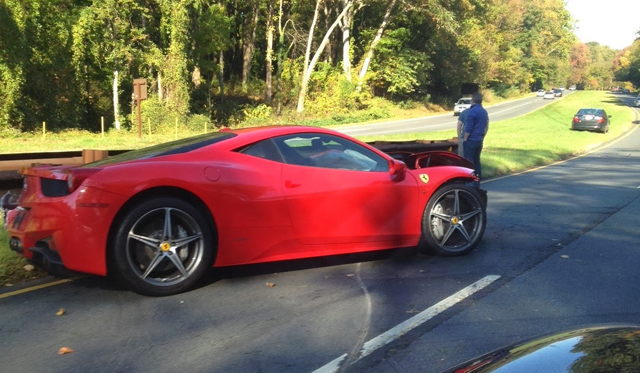 A precious red Ferrari 458 Italia recently crashed on George Washington Parkway in Washington DC, in the United States.
The cause of the crash isn't exactly known just yet, but eyewitnesses claim the Italian exotic somehow lost control and slammed into the guardrail. Consequently, the Ferrari 458 Italia has suffered severe damage to the front, left side and left rear. While the Ferrari 458 Italia is worse for wear, both occupants of the 458 Italia managed to escape uninjured.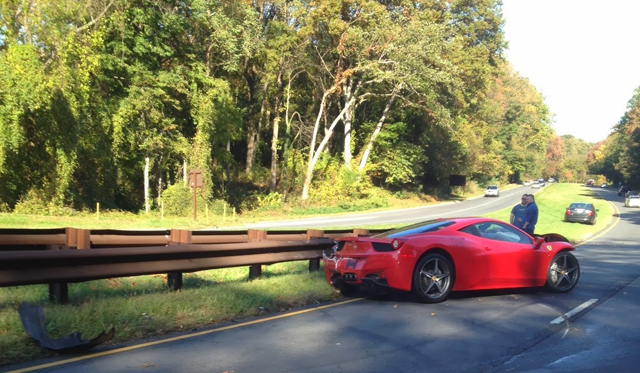 Based on these two images alone, it is hard to tell if the car will be deemed a write-off as we cannot see the side which took the brunt of the impact. Either way, the Ferrari's owner will be Ferrari-less for some time while it is getting fixed or replaced.
As you probably already know, the Ferrari 458 Italia was first revealed in 2009. It is fitted with a screaming 4.5-liter V8 engine revving all the way to 9000 rpm and producing 562 hp. What this means is that the Ferrari 458 Italia can rocket from a standstill to 100 km/h in a brisk 3.4 seconds and onto a top speed of over 200 mph. The Ferrari 458 Speciale was recently revealed which sees boosts in horsepower, torque and reduced weight.
[Via Zero2Turbo]