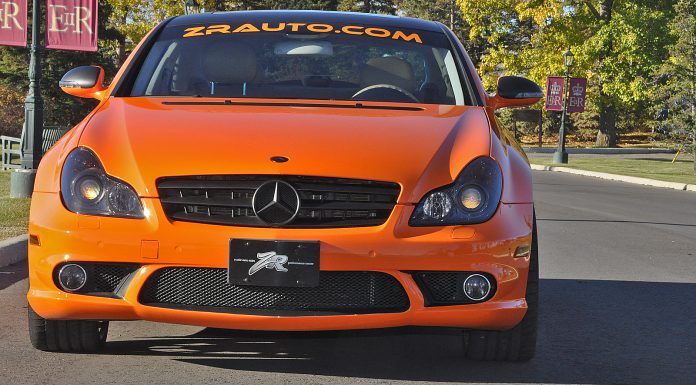 It's loud, it's in your face and it packs a serious punch! This Mercedes CLS 55 AMG is more than just a four-door commuter car, it's an absolute monster. With 640hp under the hood and a whole arsenal of aftermarket parts from Kleeman and Brabus, there's a lot to like.
When Zahir Rana of ZR Auto got ahold of a beige 2006 CLS 55 AMG, he already had ideas to turn the car from an already edgy four-seater to a super-powered behemoth. Weighing in at 4,300 pounds, this CLS is no lightweight. ZR Auto, in collaboration with Kleeman, decided to go big with this build.
[youtube]http://www.youtube.com/watch?v=PaAscsoBpQY[/youtube]
This CLS AMG boasts 5400cc Supercharged 32 Valve V8, a modified ECU unit, increased boost via pulleys, Kleemann Cams, Hi-flow cats, High flow stainless Kleemann Headers, High flow Kleemann dual exhaust, Kleemann induction kit, intercooler upgrade kit and forged Brabus wheels for better handling. Other than that, the car remains how the engineers at AMG left it.
The technicians at ZR Auto wrapped the entire exterior of the car orange with matte black accents to make it more noticable. After all, that's what ZR Auto is all about.
When GTspirit was handed the keys to this orange monster for a day, we knew that we were in for a treat! Pulling out of the lot, the Kleeman dual exhaust screamed as the car quickly entered second gear. One noticeable aspect of this modified AMG is that it has a lot of get-up-and-go! It doesn't take much convincing to get this hungry monster going fast. Just a tap of your toe on the accelerator and you're off. The tricky part was navigating through the busy Friday morning streets without being tempted to go fast.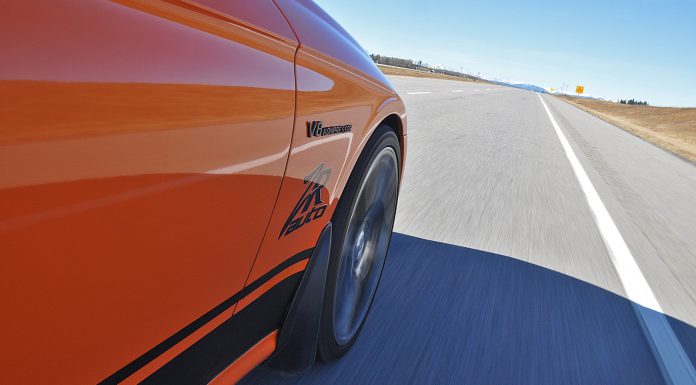 As we made our way out of the city for a wide-open drive on Alberta's long stretches of highway, fellow motorists slowed down, sped up, pulled out their phones and took pictures of the car. Driving an orange Mercedes sure does draw a lot of attention. Having never driven such a car, we noticed plenty of pedestrians and motorists doing double-takes as we crept past. It's difficult to sneak when the exhaust sounds like a snarling angry bull chasing down a matador. We knew we'd get noticed in this car, but we didn't expect to be boxed in by traffic with motorists vying for opportunities to take photos and videos.
Finally we got out of the city and hit the highway. When we opened up the throttle for the first time, it became obvious exactly how power-hungry this car actually is. We've seen this car in action before when we drove with ZR Auto to Banff with the Ferrari ZXX, but keeping that Kleeman-powered AMG in a straight line isn't exactly what you'd think. Then again, with 640 rear-wheel horsepower propelling the car down the highway, what else should we have expected?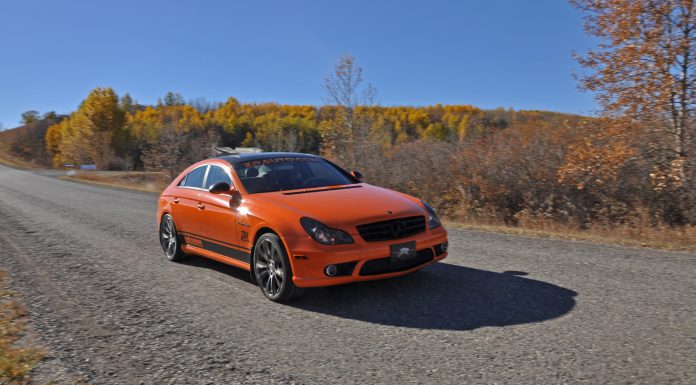 The car moves incredibly fast, almost to the point that you begin to forget that you're driving a fairly heavy four-door luxury sedan. Performance-wise, it can keep up with many Ferrari's and Lamborghini's, yet it's a lot more practical. Plus you get the advantage of having the ability to give more than one friend a ride at the same time.
ZR Auto and Kleeman tuned the car to have a top speed of 310km/h. Though we didn't even dare attempt that, the car moves very quickly. ZR Auto claims the car can do 0-100km/h in 4.3 seconds. We launched the car from a standstill and were very impressed by how quickly it accelerated.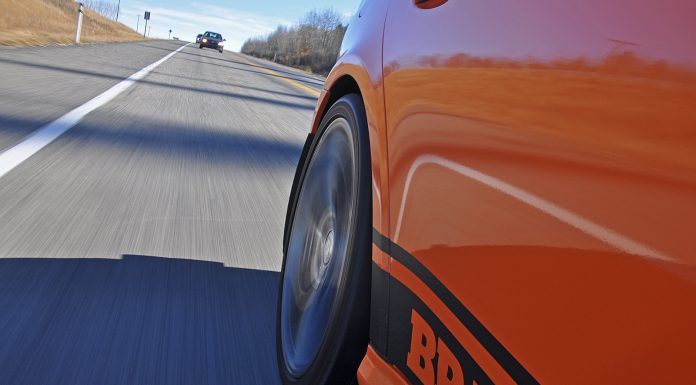 When we took the car to cruising speed, we found that the CLS AMG was very smooth in terms of handling. It still feels like a luxury Mercedes when you maintain a certain speed. It's when you accelerate from a stop or make a pass on the freeway that it starts to feel a bit more like a performance exotic.
Since this CLS AMG is driven by Zahir Rana daily, it combines performance and luxury very well. The interior is very spacious and full of all the features you would expect from a Mercedes CLS model. The seats absorb your body and hold you in place as you drive, the climate control adjusts itself based on your desired settings, the gauges are clearly laid-out and visibility from the driver's seat is ample. It's a car you could take on a long drive and not end up sore when you arrive at your destination.
ZR Auto specializes in giving already powerful cars even more power. This Mercedes just goes to show that you don't need a Ferrari or Lamborghini to go fast. You can still roll in comfort and style with enough power to keep up with the best of them.
Overall, the car was plenty of fun to drive both in the city and on the freeway. Though it draws a lot of attention to itself, we think that the orange and black wrap encompasses what the car is about; getting noticed and backing up its looks with some serious action. It's a true wolf in sheep's clothing; very orange clothing, but a sleeper never the less.