Following a selection of spyshots this year, the 2014 Range Rover Long-Wheelbase has finally been revealed by the British automaker.
The 2014 Range Rover Long-Wheelbase is actually the first stretched-wheelbase variant of the Range Rover to be offered in 20 years and promises to further improve on the luxury of the car while not diminishing its off-road potential.
Measuring 5.2 metres long, the 2014 Range Rover Long-Wheelbase will cost even more than the Range Rover Sport starting at 140,000 pounds in the U.K. What's more, a hybrid version pinned to arrive late next year could exceed 150,000 pounds.
The extra length has been achieved by extending the body shell in front of the rear wheels and Land Rover claims that this modification offers an additional 140 mm of extra rear legroom. Fitting in-line with this modification are slightly longer rear passenger doors. In addition to providing extra legroom, the lengthened body now means the rear seats can be reclined by up to 17 degrees. That is an impressive 9 degrees further than the standard Range Rover.
For extra convenience, the 2014 Range Rover Long-Wheelbase is available with powered side door blinds and a panoramic sunroof as standard. Finally, the 2014 Range Rover Long-Wheelbase will be available in two specifications. The first is the standard Long-wheelbase equipped Range Rover Autobiography, while the Long-wheelbase Autobiography Black now tops out the Range Rover line-up.
The standard stretched Autobiography will debut at the Los Angeles Auto Show 2013 later this year while the Autobiography Black will debut at the Dubai Motor Show 2013 in December.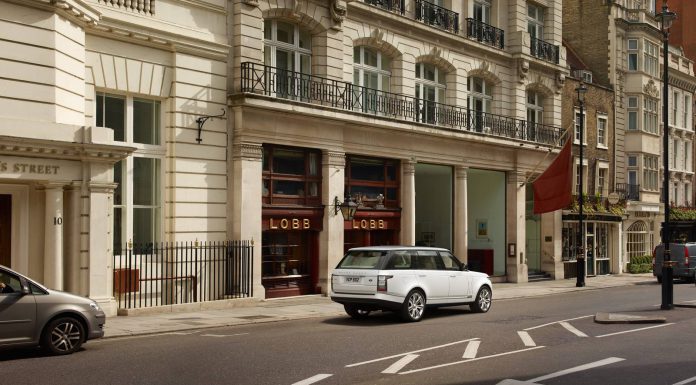 When discussing the new Range Rover Long-Wheelbase, Jaguar Land Rover Group Marketing Director Phil Popham said, "With the addition of the Range Rover long wheelbase to our portfolio of luxury SUVs, customers can now choose a vehicle that offers superior levels of interior space and comfort to compete in a market dominated by saloon cars up until this point.
"The Range Rover Autobiography Black is our most luxurious specification yet. It epitomises sophisticated design with immaculate attention to detail. The subtle, elegant and luxurious finishing touches combine with a first class experience for both driver and passengers to deliver new levels of exclusivity to our customers."