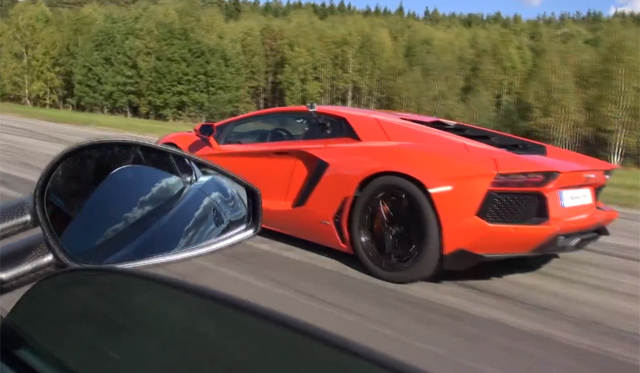 Following on from a recent video showcasing the Ferrari F12 Berlinetta comprehensively beating the Lamborghini Aventador in rolling drag races, the Aventador was recently pitted against a Ferrari 599 GTO.
[youtube]http://www.youtube.com/watch?v=8Gmea5WNnds[/youtube]
Obviously the predecessor to the Ferrari F12 Berlinetta, the Ferrari 599 GTO is the most extreme road-going version of the Ferrari 599 and features an uprated V12 engine now delivering 661hp at 8250rpm and 460lb-ft of torque at 6500rpm. With that power, Ferrari claims the 599 GTO can sprint from a standstill to 100km/h in just 3.35 seconds and a top speed of 208mph.
[youtube]http://www.youtube.com/watch?v=sVU5TGVUOF8[/youtube]
By comparison, the Lamborghini Aventador features a 6.0-liter V12 engine producing 692hp. It can hit 100km/h in just 2.9 seconds and a top speed of 217mph. However, how will the two compare in a rolling drag race? Find out above!