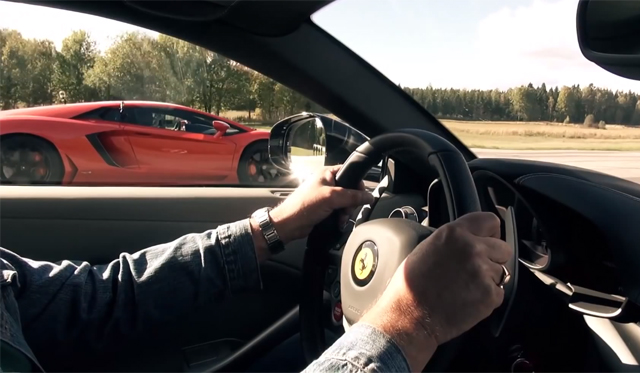 While the Lamborghini Aventador and Ferrari F12 Berlinetta may appear to be the closest of rivals on paper, they are in fact quite different. The Lamborghini Aventador is a full-on, range-topping supercar, while the Ferrari F12 Berlinetta is a potent GT-car with supercar performance.
[youtube]http://www.youtube.com/watch?v=bJwJ66uDung[/youtube]
Powering the older Lamborghini Aventador is a 6.5-liter V12 engine pumping out 692hp. Consequently, the car can sprint from 0-100km/h in just 2.9 seconds. By comparison, the Ferrari F12 Berlinetta features an even more impressive 6.3-liter front-mounted V12 engine delivering 730hp. By comparison, Ferrari claims it can reach 100km/h in just 3.1 seconds.
However, when you get rid of the all-wheel drive advantage of the Aventador off the line, which is quicker in a drag race? Well, the following video will answer that question emphatically with it featuring 4 awesome rolling drag races all with the same result. Watch the video above to find out who wins!