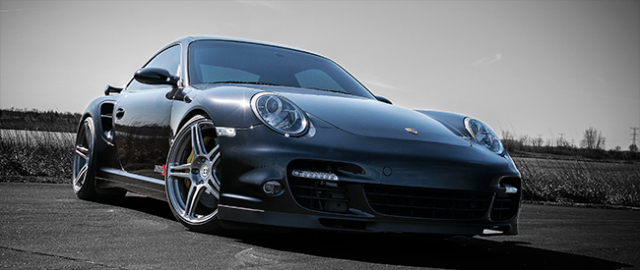 Twin Turbo Kits. They transform supercars and make them legitimate contenders to be some of the worlds fastest cars! Welcome the Alpha Performance Porsche 997 Turbo Twin-Turbo Intercooler kit, a package that is potent enough to push the 997 Turbo's power output to an astronomical 1200hp! This is a phenomenal figure considering the standard 997 Turbo generates a very modest 470hp, enough to launch the Turbo to 100km/h in just 3.3 seconds!
[youtube]http://www.youtube.com/watch?v=5HrpNtGpW84&feature=share&list=PL3Sa7b0U4B-01GOTchONLF4Kis24tr5T8[/youtube]
The kit costs a smudge under $5,000, a relatively low price considering the explosive performance that is gained as a result. The Alpha Performance Porsche 997.1TT Intercooler Kit has already produced some record performances. The car smashed past the 1 mile mark in just 23.6 seconds and at an unbelievable 370km/h! The Alpha Performance kit is also relatively easy to install. All parts match those of the standard Porsche but have all be constructed to a superior or equivalent quality of the parts that they replace. Seems like an easy way to access some MEGA performance!