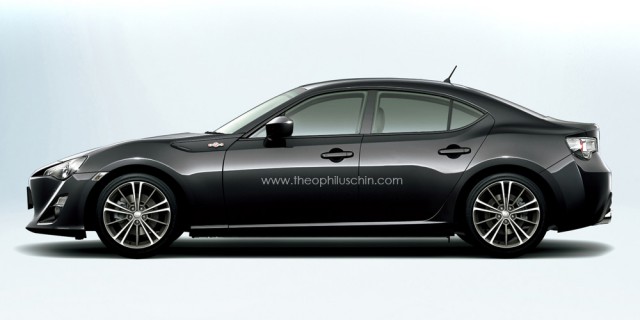 Following recent reports that Toyota is developing a sedan variant of the awesome Toyota GT86 sports car, Theophilus Chin has put together the following rendering depicting such a car and it looks just as expected.
One could only think that for a sports car like the Toyota GT86/Scion FR-S and Subaru BRZ, the Japanese automakers would follow up the coupe variants with a drop-top.
However, it was recently confirmed that the Toyota GT86 Convertible has been delayed indefinitely for at least the next few years. Despite this, Toyota still has ambitious plans to expand the GT86 sports car range and the next variant on their radar is reportedly a sedan version of the Toyota GT86.
With development of the Toyota GT86 Convertible delayed, sources indicate that Toyota has given the green light for a concept version of the Toyota GT86 Sedan to be created and shown off at a major motor show sometime next year.
While details remain scarce about a possible Toyota GT86 Sedan, it's reported that the car will feature the same 2.0-liter Subaru-sourced Boxer four-cylinder engine as the standard GT86 coupe. Arguably most significantly however, is the fact that the Toyota GT86 could also debut a new hybrid drivetrain system which Toyota is currently preparing for the next-gen Toyota GT86 coupe.
This hybrid system could incorporate similar technology as found in the hybrid system of the Toyota Yaris Hybrid R Concept. Consequently, it could feature a Kinetic Energy Recovery System just like Formula One cars.
[Via Theophilus Chin]