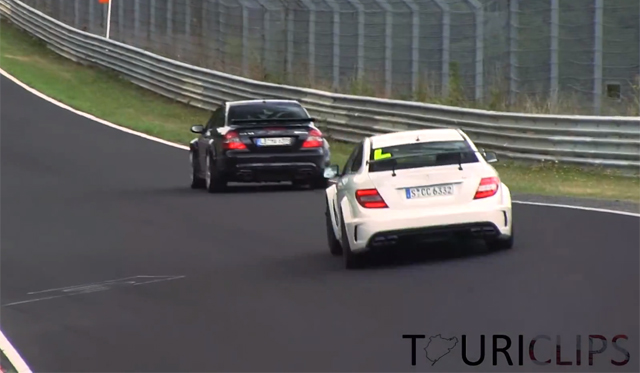 The 507hp Mercedes-Benz CLK63 AMG Black Series ushered in a new era for high-performance Mercedes-Benzes. Produced as an even more insane variant of the already potent CLK63 AMG, the Black Series turned things up a notch to a level not before seen on 'readily available' Mercedes'.
[youtube]http://www.youtube.com/watch?v=h4LmG5C0gTU[/youtube]
Since then, the Mercedes-Benz SL65 AMG Black Series, Mercedes-Benz C63 AMG Black Series and Mercedes-Benz SLS AMG Black Series have all been created and all been as insane as each other. What's more, Mercedes-Benz is also believed to be developing a Black Series variant of the A45 AMG.
However, the original Black Series, the CLK63 AMG Black Series maintains a special place in our heart and was recently filmed at the Nurburgring racing a C63 AMG Black Series!