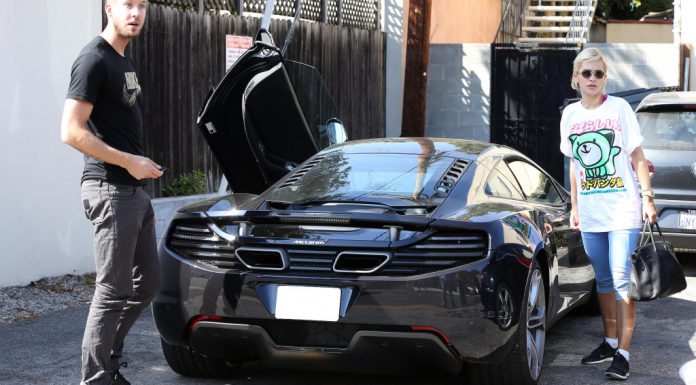 Just a couple of weeks after we showed you an image of David Beckham cruising the streets of LA in a stealthy McLaren 12C Spider two more famous stars are seem in a McLaren, this time a 12C Coupe, again in black.
DJ Calvin Harris and singer/songwriter Rita Ora, a recent celeb couple, were spotted on a number occasions with the British built supercar. The 12C hides a 3.8 liter twin turbo V8 engine delivering 616hp at 7,000rpm and 443lb-ft of torque between 3,000 and 7,000rpm under the bonnet. Those performance figures offer a sprint from zero to 100km/h in 3.3 seconds (3.1 seconds with corsa tires).
But it is not just the explosive performance that we believe to be the reason such high-profile celebrities choose to drive the 12C. When we tested the 12C Coupe we loved its ability to not only exploit its race car pace, but the other face of this car. With the settings in the softest modes the car really settles down. The revolutionary suspension allows the car to float on even the bumpiest of roads and in the upmost comfort for the passengers.