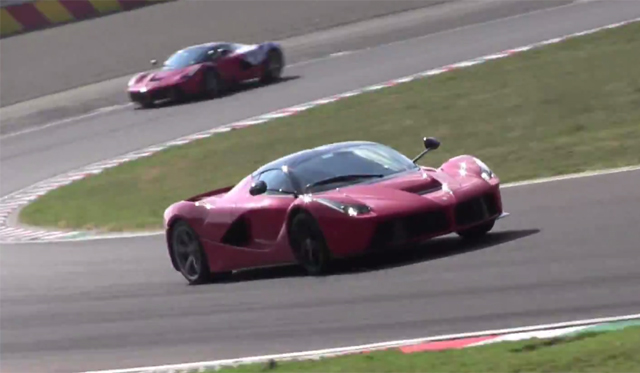 Testing of the almighty 2014 Ferrari LaFerrari is still well under way with extensive racetrack development being undertaken at the infamous Fiorano test track.
Unlike its rival McLaren, Ferrari actually has its very own test track literally in its backyard meaning it doesn't have to travel to the Nurburgring for high-performance testing hence why no prototypes have been spotted at the 'Ring.
[youtube]http://www.youtube.com/watch?v=FjghiUWNdCc#t=128[/youtube]
The following video was filmed by cvdzijden on YouTube and features two undisguised prototypes undergoing full-speed testing at the testing facility. LaFerrari is said to lap Ferrari's Fiorano test track in less than 1 minute 20 seconds. That is five seconds quicker than the Enzo and more than three seconds quicker than the Ferrari F12 Berlinetta. Compared with the Ferrari Enzo, torsional rigidity is up 27 percent and longitudinal stiffness increases 22 percent, while weight goes down by 20 percent.
The 2014 Ferrari LaFerrari receives a 6.3 liter V12 which is connected to an electric motor similar to the system on the McLaren P1. LaFerrari's V12 has an output of 800hp at 9,000rpm and 700Nm at 7,000rpm while its electric motor has a maximum output of 163hp and 270Nm of torque. That delivers a total combined power output of 963hp, allowing the new Ferrari Enzo to do 0-100 km/h in less than 3 seconds, 0-300 km/h in 15 seconds and a top speed in excess of 350 km/h.