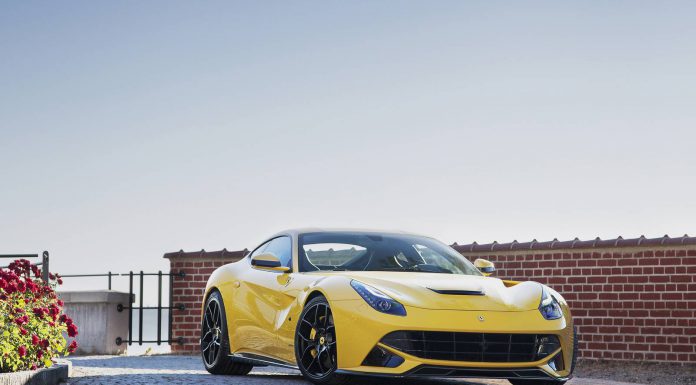 Novitec Rosso released a new set of photos and an update to their Ferrari F12 Berlinetta kit today. The package offers slight improvements over what has already been announced, with an extra 11hp taking the total up to 774hp. It's a nice subtle upgrade to tide owners over until the inevitable extreme power upgrades become available!
Thankfully, Novitec Rosso released a fresh set of photos to accompany the new details. All aerodynamic parts come painted or finished in a clear-coated carbon fiber with a matt finish. At the front axle, Novitec fits a three-piece aerodynamics upgrade which consists of a front spoiler lip with attached air ducts and a central front blade. At the side, new new rocker panels and carbon mirror housings are fitted. The rear gets a new diffuser, which we haven't seen before and a rear spoiler lip.
The wheels are apparently custom to the F12 Berlinetta and measure 21 inches at the front axle and 22 inches at the back. They are named NF4 and are among the lightest alloys available in their sizing. Sports springs lower the ride height of the Ferrari by up to 40 millimeters.
Finally, power upgrades have been applied to the F12 Berlinetta's 6.3 litre V12. The power upgrades are realised through an engine management system with newly calibrated mapping for injection and ignition. In addition, a high-performance exhaust system with metal catalysts, available with or without controlled butterfly valve, is installed.