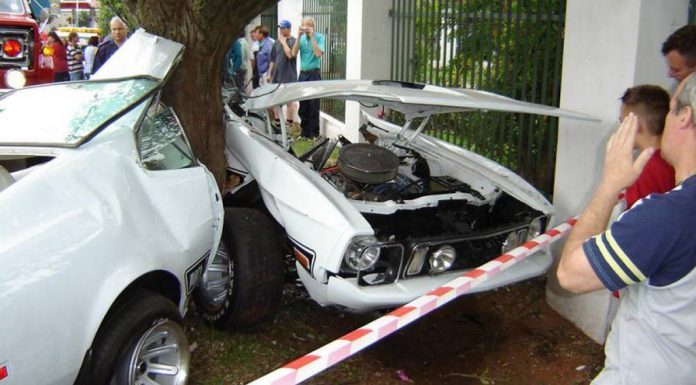 A classic Ford Mustang Mach 1 was recently involved in a high-speed crash in South Africa which saw it almost slicing into two after hitting a tree side-on.
Originally produced from 1969 to 1978 and then reincarnated in 2003 and 2004, the original Ford Mustang Mach 1 was only ever available with a 'Sportsroof' body style, also known as a fastback. This particular Ford Mustang Mach 1 was of the first-generation which was available with no less than seven different variants of V8 engines.
The base-model came fitted with a 5.8-liter V8 engine delivering 250hp and 355lb-ft of torque, while the top of the range 7.0-liter V8 engine delivered 335hp and 440lb-ft of torque at 3,400rpm.
It was recently revealed that the next-generation Ford Mustang due out in 2015 would drop the Shelby name while gaining the infamous SVT Cobra nameplate. However, reports later emerged that the Shelby name will be retained, except that it'll only be offered as a Shelby GT350 model. Additionally, the legendary Mach 1 moniker is set to make another appearance on the 2015 Ford Mustang.
The last time the Mach 1 name was used for an official Ford Mustang was back in 2003-2004 where the car featured an uprated 4.6-liter V8 engine developing 305hp. Additionally, the 2003 Ford Mustang Mach 1 included front Brembo brakes measuring 13-inch and Tokico shocks and stiffer springs. These new reports suggest that the Mach 1 name could in fact be used in a new Ford Mustang variant as soon as 2017.
They condition of the driver and any possible passenger is not yet known.
[Via Zero2Turbo]