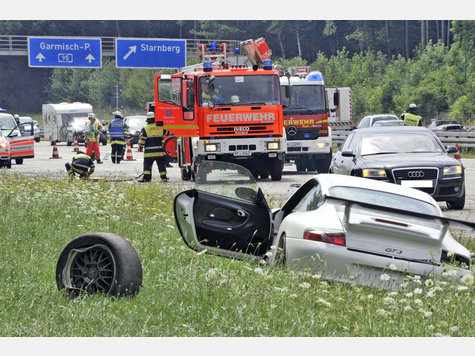 Last Saturday a Porsche 996 GT3 driver killed a Toyota Yaris driver in a high speed accident on the German A95 Autobahn near Munich. Police and eye witness reports suggest the Porsche GT3 was on its way to Munich travelling at very high speeds when the driver lost control over the vehicle at the Starnberg interchange.
For some unknown reason the Porsche spun on the bend through the interchange, slid through the grass onto the connecting onramp of the A952 autobahn in direction Munich. It then collided with a Toyota Yaris driven by a 67-year old woman. The impact with the Toyota was so brutal that it flipped multiple times before coming to a halt on its roof next to the autobahn. The Porsche slid further and came to a rest, also besides the motor way a good 150 meter further.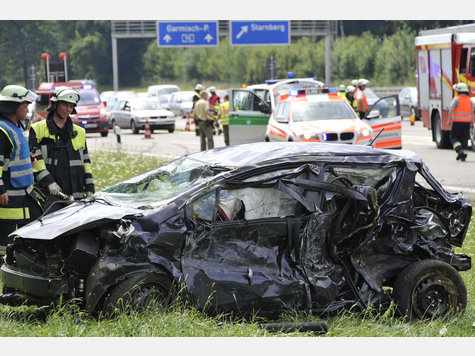 The woman that drove the Yaris had to be cut out of her vehicle, and although still conscious right after the accident, her condition worsened. She had to be resuscitated at the roadside before being rushed off to a nearby Munich hospital where she died only hours later. The Porsche driver and his co-pilot survived the accident with only light injury. Police reports suggest the Porsche was travelling at between 250 km/h and 300 km/h at the time it lost control. The total accident path was over 600 meters long and the highway was closed off for hours causing long traffic jams.
The stretch of autobahn where the accident happened has no speed limit. However the bend through the interchange and the merging traffic ahead certainly doesn't allow for these kind of speeds. Sadly its because of incidents like this that more and more parts of the German autobahn network receive a speed restriction!