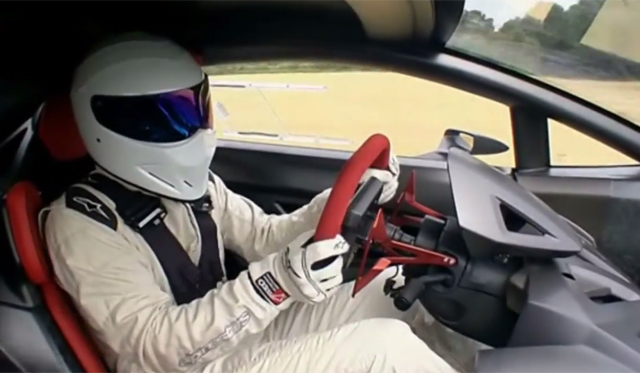 For those who haven't seen Top Gear Season 20 Episode 5 yet, I suggest you look away now. On the episode, Richard Hammond was invited by Lamborghini to drive the exclusive Lamborghini Sesto Elemento at Imola with the car then hitting the Top Gear Test Track for what was always going to be a blisteringly fast time.
However The Stig, Top Gear's unknown race driver, had some problems with the Lamborghini Sesto Elemento and for just the second time, spun a high-priced supercar during a hot lap of the Top Gear test track. The last time The Stig spun an exotic was when driving the Koenigsegg CCX after it lost traction in the track's high-speed right-hander. This infamously led Koenigsegg to fit a rear wing to the Koenigsegg CCX for additional downforce.
However, as the following video shows, the Lamborghini Sesto Elemento didn't spin due to a lack of downforce and instead spun after becoming unsettled going around the high-speed left turn at the tire wall and bumping over the edge of the track which The Stig always speeds through.
Ultimately, The Stig then slid into the grass inevitably damaging the underside of the Lamborghini Sesto Elemento. However, a successful lap was later achieved as the Lamborghini Sesto Elemento lapped the circuit in an incredible 1 minute and 14 seconds, putting it just 0.2 seconds behind the Pagani Huayra and making it the second fastest car to have gone around the track. However, because it's a track special, it was swiftly taken from the Top Gear Lap Times board.