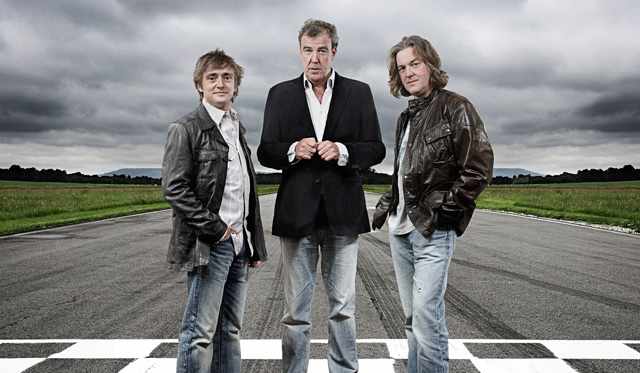 In exactly 24 hours Top Gear returns on television with Top Gear Season 20 Episode 5 and this is what you can expect: Richard travels to Italy to drive two Lamborghinis: the Lamborghini Aventador Roadster and the limited edition £2 million Lamborghini Sesto Elemento.
Jeremy Clarkson and James May use this episode to investigate an increasingly popular type of tall hatchback often referred to as a 'crossover'. After deducing that these cars are designed entirely to appeal to caravanners, the Top Gear hosts pick examples from Mazda and Volkswagen then use them to spend a couple of days living like the kind of person who would buy one. Entertainment guaranteed!
Also in this episode James May visits the Top Gear test track to drive a modern recreation of the classic Porsche 911.
In Top Gear Season 20 Episode 5 Steven Tyler, frontman of Aerosmith, is the star in the Reasonably Priced Car. The now 65-year old rockstar has been in the music business for over 40 years and he is still going strong. Besides recording new albums with Aerosmith, he recently also appeared as a judge on American Idol. Watch tomorrows episode of Top Gear to see how Steven Tyler does in the reasonable priced car!
You can see Jeremy Clarkson, Richard Hammond and James May on the telly with Top Gear Season 20 Episode 5 Sunday 28th of July at 8pm on BBC2!
Top Gear Season 20 Episode 5 Trailer Video
Top Gear Season 20 Teaser Gallery