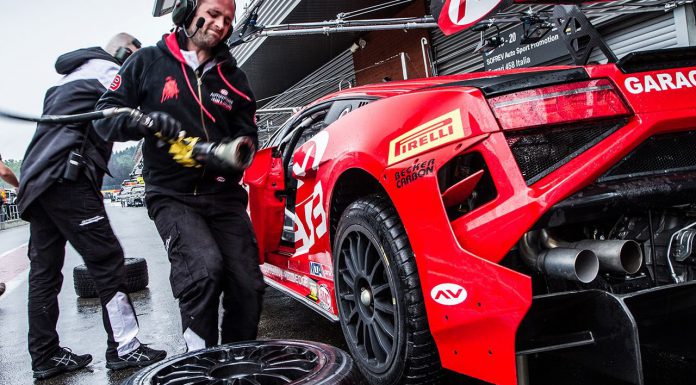 The Lamborghini Blancpain Super Trofeo qualifying and race one sessions took place today at the ongoing race events in the larger Total 24 Hours of Spa. While the main event kicks off at 4:30pm CET tomorrow, the second race of the Lamborghini Blancpain Super Trofeo will take place at 10:40 Hrs CET, ahead of the 24 hour race.
During the qualifying session today, the drivers raced under wet conditions as it was raining throughout the entire 40-minute session. But South African Adrian Zaugg was not intimidated as he managed to secure the pole position ahead of race one. Other front runners included Silverstone winner Andrea Amici racing for Autocazzerria Imperiale SRL; he finished second. A storming lap from Matteo Zucchi put the Italian and his team-mate Alessandra Brena into P3.
Emmebi's Fran Bugliotti was driving with a strapped wrist after sustained a squash injury and he qualified fourth ahead of Cédric Leimer, who slid from P2 to 5th. Leonardo Geraci also suffered deterioration and finished 13th. Also notable was Mirko Zanardini who was racing in memory of his team-mate Andrea Mamé with a special tribute livery on the #34 Bonaldi car, he finished 9th.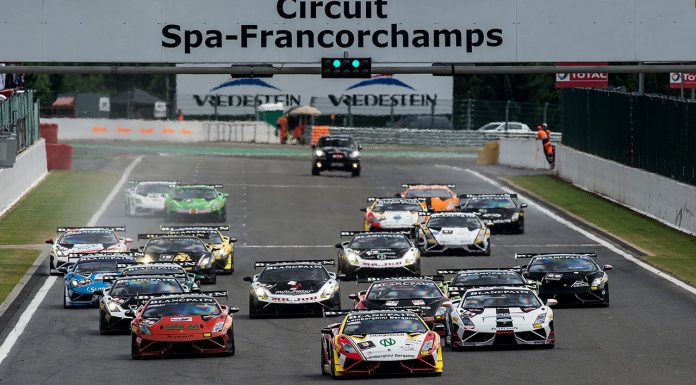 Race one is where things turned around as Andrea Amici managed to scoop yet another win, barely after winning Silverstone. Adrian Zaugg started at pole, together with Amici they managed to take their fight way ahead of the other drivers. As the pit's window neared, Zaugg had a 17s lead over the rest. Series leader Cédric Leimer opted for an early stop from fourth place but jumped back to third place on returning.
Meanwhile, Zaugg's teammate Federico De Nora had scooped a 9.5s lead over Andrea Amici. Luckily, Amici benefited from 12 additional laps of track time and he would go all the way into claiming a back-to-back win. The biggest loser was Emmebi's Fran Bugliotti, who was penalized after speeding in the pit stop lane and also for short pit stop, he was thrown out of the top 10. Adrian finished second, third came Leonardo Geraci who had climbed from 13th on the grid to 3rd, passing Cédric Leimer who finished fourth.