Jaguar's BMW 3-Series and Mercedes-Benz C-Class rivalling sedan, the 2016 Jaguar XS, was recently spotted testing at the Nurburgring a couple months after the very first spyshots emerged. As with that previous prototype, this particular 2016 Jaguar XS was spotted wearing a similar body to the Jaguar XF.
On first glance in fact, the 2016 Jaguar XS prototype pictured here looks almost identical to the current XF. However, upon closer inspection it's substantially shorter and features a narrower stance while also being far lower to the ground to lower the center of gravity. Additionally, this Jaguar XS prototype sports slightly an unfinished rear-end exposing different exhaust pipes.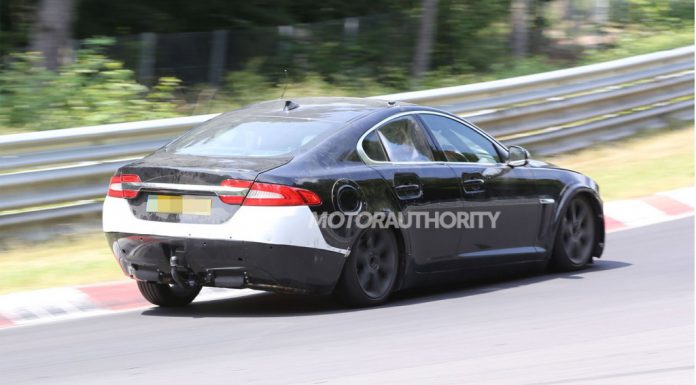 Due to the Jaguar XS featuring a body very similar to the Jaguar XF, it's possible that the small sedan will utilise the platform of the XF. Furthermore, Jaguar could also use its Premium Lightweight Architecture (PLA) constructed of aluminium. This system is so flexible and versatile that it actually made its debut in the 2013 Range Rover.
Under the hood, the 2016 Jaguar XS will be offered with the some of the engines present in the XF as well as the Jaguar F-Type. However, it'll also be available with a turbocharged 2.0-liter four-cylinder powertrain developing 240hp with a 380hp, 3.0-liter supercharged V6 set to be the range-topping engine. Rear-wheel drive will be standard in the 2016 Jaguar XS but an all-wheel drive system will be offered at additional costs.
[Via Motor Authority]