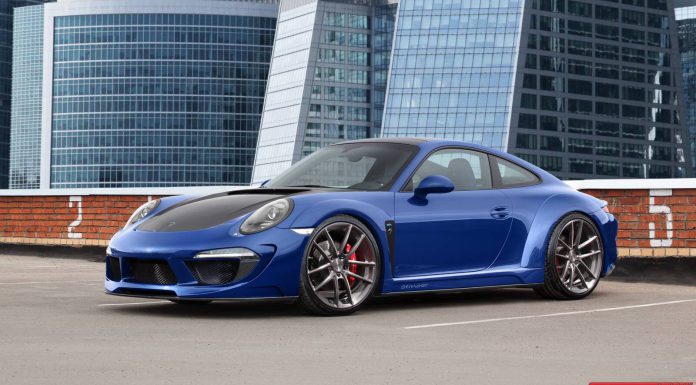 TopCar released images of their latest project, a completed Porsche 991 Carrera Stinger! The Porsche 991 Carrera Stinger by TopCar has been in the works for a little while now and we have to say, the finished product looks fantastic!
Aside from the bespoke interior we've come to expect from the Russian company. The exterior of the Porsche 991 Carrera Stinger features new front and rear bumpers, airpaths moulded into the front bumper, extenders on the front and rear wings, a new carbon fibre bonnet, an extra spoiler and a new set of tailpipes for the exhaust.
Overall, the car sits lower and wider than the standard 991 Carrera. This particular package is available for the Porsche 991 Carrera 4 and 4S, although TopCar will make it available to other 991 Carrera models in due course.
TopCar will also provide chip tuning to boost power. Extras include new filters, manifolds and exhaust system as well as bespoke interior solutions. This car will debut at the Auto Exotica 2013 in Moscow followed by a worldwide release at the Frankfurt Motor Show 2013!