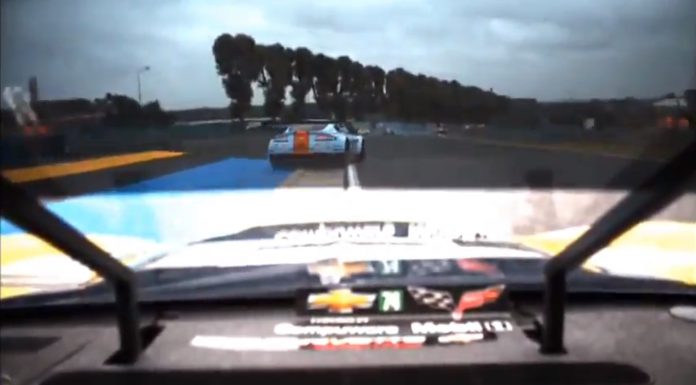 24 Hours of Le Mans 2013 got off to a sad start earlier today when Allan Simonsen sadly lost his life in the Number 95 Aston Martin. The 34 year old was an experienced Le Mans veteran having raced with Aston Martin last year and as a continuous entrant since 2007. The video below shows what the view from the car behind.
The video seems to indicate that the car crossed a painted blue line causing it to lose traction and veer off the race circuit. However, it is unknown whether mechanical failures or some other factor caused the violent reaction.
http://youtu.be/Q623g1mKpdE
The organisers of the event, Automobile Club de l'Ouest, released the following statement:
The driver was immediately attended on the scene by the doctors from the Automobile Club de l'Ouest's Medical Service. In a serious condition, Allan Simonsen was transferred immediately to the Circuit Medical Centre where he died soon after due to his injuries.

Allan Simonsen's family has been informed immediately by David Richards, Principal of the Aston Martin Racing team. Allan Simonsen, an experienced driver aged 34, had taken part in seven 24 Heures du Mans. His team mates in the No.95 car were his fellow countrymen, Christoffer Nygaard and Kristian Poulsen.

The Automobile Club de l'Ouest wishes to express its great sadness following this incident, and extends its deepest condolences to the family and those close to Allan Simonsen.

The Automobile Club de l'Ouest will make no further statement while the exact reasons for the accident are still being wholly determined.
Aston Martin have just released an official statement:
Le Mans, 22 June 2013: It is with great shock and sadness that the Aston Martin Racing Team confirms that an accident occurred shortly after the start of the 24 Hours of Le Mans at around 15:09 hrs CET today (22 June) when the No 95 Vantage GTE driven by Allan Simonsen left the track at Tertre Rouge.

Tragically, and despite the best efforts of the emergency services in attendance, Allan's injuries proved fatal.

Aston Martin Racing Managing Director, John Gaw, said: "On behalf of all of us at Aston Martin Racing, I would like to extend our deepest sympathies and condolences to the individuals, and families whose friends or loved ones were involved in today's terrible tragedy."

Aston Martin Racing will not make any further comment until the precise circumstances of the accident have been determined. Next of kin have been informed.

Following the ACO's media statement concerning the tragic death of Aston Martin Racing driver Allan Simonsen, and at the specific request of his family, the team will continue to participate in the 24 Hours of Le Mans in tribute to Allan.