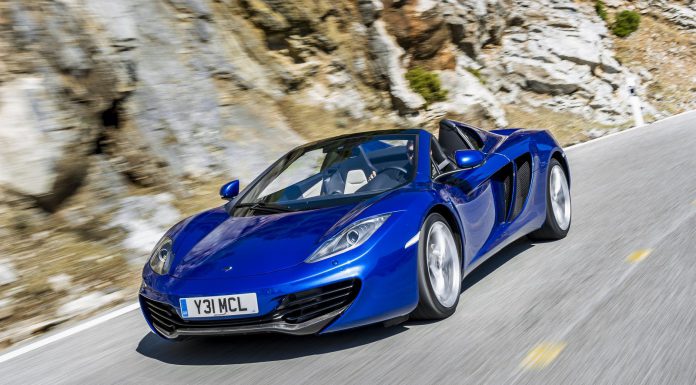 As it stands, the 2013 McLaren 12C is quite a bit more powerful than its nearest rival the Ferrari 458 Italia. In 2013-spec, the McLaren 12C produces an insane 616hp from its 3.8-liter twin-turbo V8 engine while the Ferrari 458 Italia can 'only' muster 562hp. That deficit and the advanced traction control and launch control systems of the 2013 McLaren 12C make it significantly faster off the line than the Ferrari 458 Italia and that gap is set to increase even further.
While driving the McLaren 12C Spider, McLaren engineers revealed to Jalopnik that the 2014 McLaren 12C is set to receive a number of engine modifications courtesy of the uprated 3.8-liter twin-turbo V8 system found in the company's halo hypercar, the McLaren P1. The heavily revised V8 found in the P1 may be based on the 12C's, but it manages to produce 727hp.
With these engine modifications set to carry over to the 2014 McLaren 12C, the new car will inevitably have even more power with possibly up to 650hp driving the rear wheels. If that's the case, then the 2014 McLaren 12C would have almost 90hp more than the Ferrari 458 Italia and could consequently become a true Lamborghini Aventador rival.
It's not yet known when the 2014 McLaren 12C will debut, but the IAA Frankfurt Auto Show 2013 in September is a likely candidate.
[Via Jalopnik]