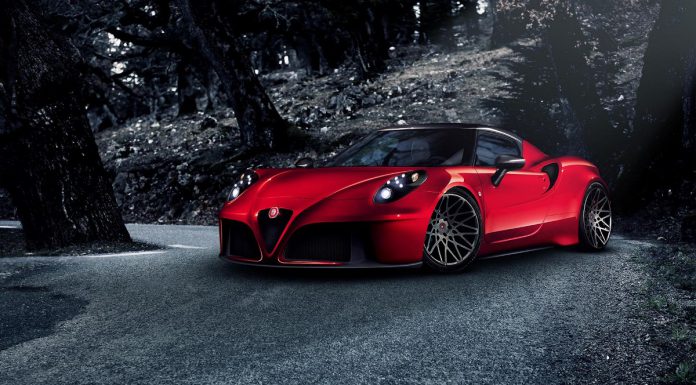 Alfa Romeo is counting on the new 4C sports car as it's major cash cow especially in making a remarkable comeback into the US market. With that said, one of the major opportunists that emerge alongside new cars are the tuners. Based in Friedrichshafen, Germany, Pogea Racing are the first to show interest in the new Alfa Romeo 4C.
The car is set to make its first UK debut at the Goodwood Festival of Speed in July, with the group showing the limited edition of 1000 units only. Pogea Racing on the other hand have laid out a plan which will ensure the Alfa Romeo 4C gets sportier features and with its engine kicking out more horses.
Let's set the facts right, a brand new Alfa Romeo 4C will leave the store with a 240 hp direct injected, 1750 turbo petrol engine which is an evolution of the engine already in use in the Quadrifoglio Verde version of the Giulietta. The new '4 cylinder' 1750 Turbo Petrol engine implements an innovative aluminum block and specific intake and exhaust systems.
The tuning package from Pogeo Racing will see the car get sportier 19 and 20 inch alloy wheels, alongside a sport suspension. Interior upholstery will feature leather detailing while carbon fiber will enhance the lightweight theme, remember a stock Alfa Romeo 4C weighs only 895 kg, a tuning program will always take that into consideration.
New parts will include the stated full carbon fiber parts in the front, side and rear including those meant for enhancing downforce. They expect a power increase of up to 415 hp and 450 Nm of torque. That's impressive considering the stock output is rated at 240 hp. To do this, they will add new turbochargers, tubular exhaust manifold and an exhaust system with valve control.
The car will also receive Pogea Racing XCut wheels in 19 and 20 inch dimensions while the suspension will feature KW Automotive, DCC and Clubsport kits.