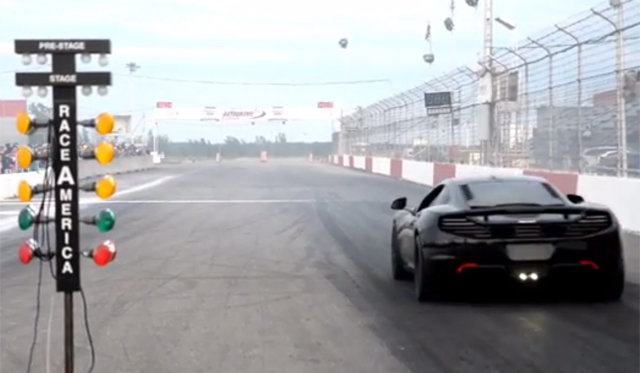 While the eighth mile drag may not be as recognised as a benchmark test for a car's acceleration capabilities as the quarter mile, 1/8th mile drag races can still be extremely entertaining as showcased by the following sprint courtesy of a black McLaren 12C.
At a recent drag racing event in Quebec, Canada a 2012 McLaren 12C managed to set a new world with mile eighth mile time for a completely road-legal supercar sprinting down the sticky track in just 6.723 seconds! The 2012 McLaren 12C produces an impressive 616hp from its slightly uprated 3.8-liter twin-turbo V8 engine also present on the newer, 2013-specification McLaren 12C.
As a result, this engine offers a sprint from zero to 100km/h in 3.3 seconds (3.1 seconds with corsa tires) and zero to 200km/h to 9.1 seconds (8.9 seconds with corsa tires). The engine sits behind the cockpit, with a seven-speed, Italian-made Graziano twin-clutch transmission attached to the back. The newly developed setup features a system dubbed Pre-Cog which allows the driver to pre-select the next gear by lightly tapping the paddle shifter.
As you may recall, a very similar McLaren 12C recently sprinted down the quarter mile completely stock in just 10.5 seconds in the U.S., once again showcasing just how ferociously quick the McLaren 12C really is! This McLaren 12C is an Evolution Motorsports Stage 2 12C with 724hp.