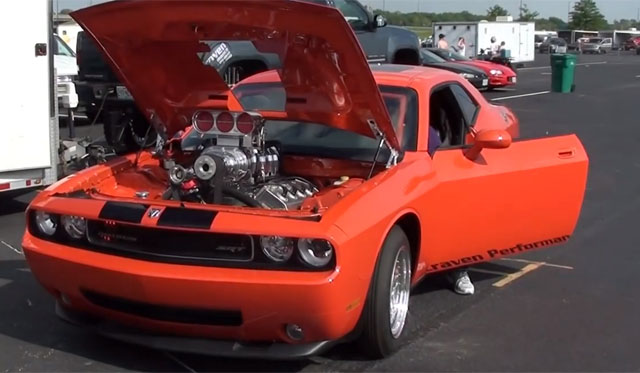 For most people, the standard Dodge Challenger SRT8 is more car than you'd ever need. After all, it features a 6.4-liter V8 engine pumping out an impressive 470hp and has proven itself to be a true rival for cars like the Chevrolet Camaro and Ford Mustang.
However, the owner of the following orange and black Dodge Challenger obviously doesn't fit into that equation and decided to turn their once-standard Dodge Challenger into a drag racing machine fitted with a 572 Hemi V8 engine! This powerplant has then been mated to a 10-71 supercharger helping the massive engine pump out an incredible 1200hp!
This particular car has yet to hit a dyno, but when it does, expect it to pump out all of those 1200 horses at the rear wheels which are in fact wheels specifically manufactured for drag racing. Until vision of this insane 1200hp+ Dodge Challenger hitting the dyno or speeding down the track becomes available, be sure to enjoy the following clip of the car revving courtesy of RamblinAround on YouTube!