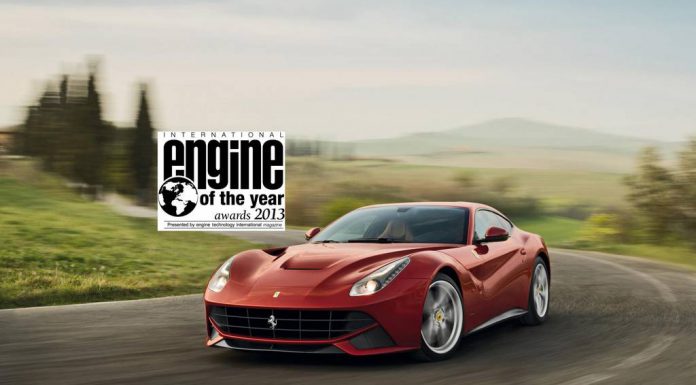 Ferrari's incredible performance, production engines continue to rake in the accolades with the company's flagship 6.2-liter V12 engine from the Ferrari F12 Berlinetta taking home two awards at the 2013 International Engine of the Year Awards.
In 2011 and 2012, the 4.5-liter V8 engine which revs to an insane 9,000rpm in the Ferrari 458 Italia came home with awards for the Best Performance Engine and the best engine Above 4-liters and the Ferrari F12 Berlinetta's 6.2-liter V12 was recently awarded those two awards for the 2013 edition of the event. This just goes to show that when it comes to performance engines, no one can do it better than Ferrari.
The Head of Ferrari's powertrain department Jean Jacques said, "Winning both these categories for the third year running is a fantastic result for everyone at Ferrari. It is testimony to the efforts of a relatively small group of engineers who constantly strive to achieve ambitious technical objectives. Three figures suffice to demonstrate the results of development: 120 HP more and 30 percent lower emissions than the previous V12 that equipped the 599 GTB Fiorano, along with a 30 percent increase in longitudinal acceleration,"
The past three years of success for Ferrari at the International Engine of the Year Awards will surely upset Lamborghini as its all-new, 6.5-liter V12 engine found in the Lamborghini Aventador hasn't picked up any awards as prized as these. However, when the Lamborghini Gallardo successor hopefully debuts with an all-new engine in the coming year, it may become a fierce competitor for Ferrari's engine expertise.