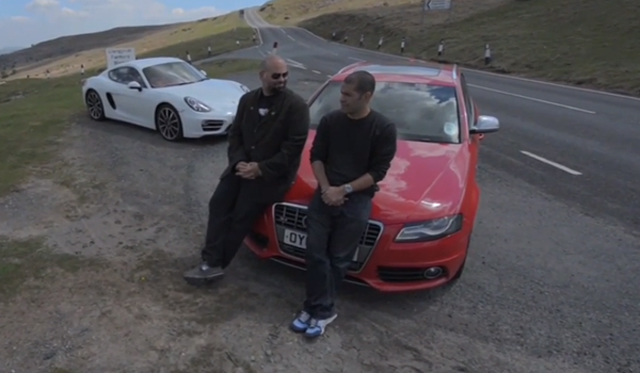 In a far from conventional episode of Tuned for the Drive channel on YouTube, presenter Matt Farah flew over to the United Kingdom to join Chris Harris and to discuss whether or not to tune a car through the testing of Harris's 415hp Audi S4 and a basic Porsche Cayman.
As you may recall from a few weeks ago, Chris Harris recently purchased this bright red Audi S4 and swiftly had its ECU tuned and upgraded with a set of Stasis brakes. It then set about beating a stock Audi RS4 in a drag race and is the perfect demonstration of how much faster a car can be made with very simple modifications.
In the following video, Chris Harris joins Matt Farah to discover the ideal level of tuning for a daily driver and whether or not it's wiser to drive a tuned Audi S4 or a relatively slow 2013 Porsche Cayman delivering just 275hp and just over 200lb-ft of torque. The following test takes place on some truly incredible Welsh roads where the limits of the two cars are explored as the two Drive presenters drive each car to come to a conclusion about which is best.
While comparing an Audi S4 and a 2013 Porsche Cayman may seem a bit unusual, don't forget that both of this cars car be used as daily driver's and are more than capable of offering up huge amounts of fun for the driver.