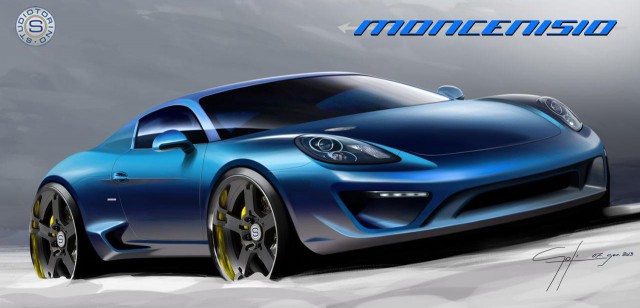 The first details and artist renderings of the upcoming StudioTorino Moncenisio sports car based on the Porsche Cayman S have just been released online. Despite sharing its underpinnings with the Porsche Cayman S, the StudioTorino Moncenisio promises to be a completely new beast when it hits the market soon.
From a visual standpoint, the StudioTorino Moncenisio features brand new carbon fiber front and rear bumpers, a carbon fiber tailgate as well as carbon fiber quarter panels topped off with sharp air intakes not seen on the standard Porsche Cayman S. Separating the StudioTorino Moncenisio further from the Porsche Cayman S are its LED daytime running lights, unique five-spoke, 20-inch forged aluminium wheels and a lightweight aluminium fuel tank lid. Topping off the exterior changes will be a palette of seven different unique StudioTorino colors.
While the exterior of the StudioTorino Moncenisio has been changed dramatically from the car it's based on, the interior has remained almost standard and only features new StudioTorino leather upholstery and an individually-numbered commemorative plaque engraved with the name of the individual owner.
It's currently unclear if the StudioTorino Moncenisio will undergo any performance modifications, but if not, it'll feature the same 3.4-liter V6 engine as the 2013 Porsche Cayman S which produces 325hp.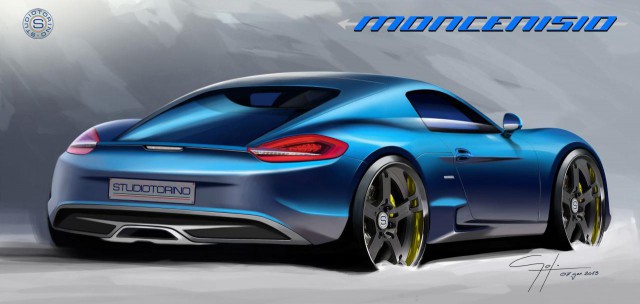 Just 20 units of the StudioTorino Moncenisio will be produced with the conversion costing a hefty $178,875 excluding the original cost of the 2013 Porsche Cayman S itself.