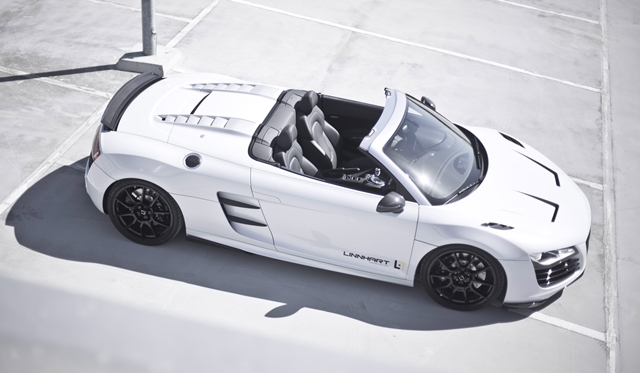 German tuning company Linnhart from Mannheim presented their debut project which includes a complete modification program for the Audi R8 Spyder. The Audi R8 V10 gets a complete package with performance, aerodynamic and visual upgrades.
The Audi R8 Spyder by Linnhart gets various lightweight components which are responsible for a sportier look compared to the stock Audi R8 Spyder. The Linnhart aerodynamic kit is composed of front flics, hood, side flaps, intake fins, diffusor and rear spoiler and is on offered for V8 and V10 models.
An improved engine kit allows a power increase of up to 50hp. The weight-optimized Spider Performance 20 inch rims accomplish the Linnhart Audi R8 Spyder. Optionally, a high performance forged wheel is available.